Credit growth dips in May after five months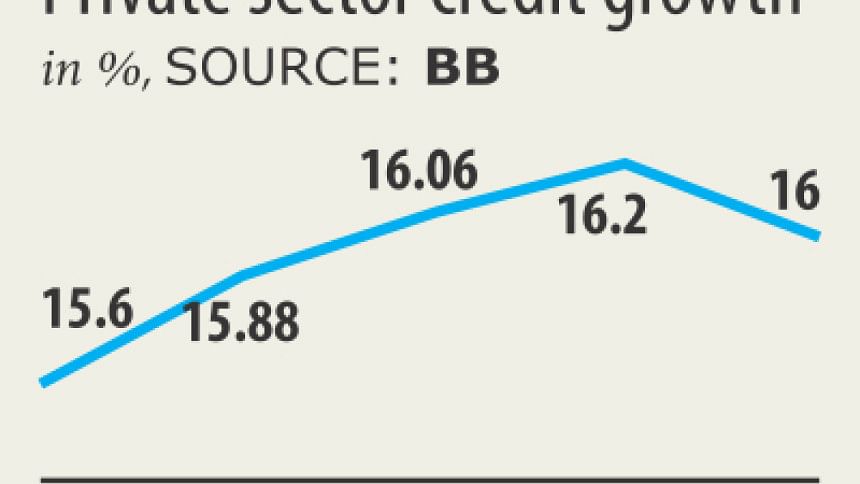 Private sector credit growth bucked its five month-long upward trend in May, declining 0.2 percentage points to 16 percent.
"There is nothing to worry about," said Syed Mahbubur Rahman, managing director of Dhaka Bank, adding that the demand for credit is on the rise thanks to the government's various infrastructure projects.
Moreover, the banking sector's liquidity might shrink by the end of this year due to the government's request last month to channel about Tk 20,000 crore to private sector power plant projects to fast-track their implementation, he said.
Banks also agreed to divert the funds as they are sitting on excess liquidity.
The banking sector's liquidity declined 11.15 percent from December last year to Tk 111,910 crore in March due to growing credit growth, according to data from the central bank. 
The state banks are sitting on the highest amount of excess liquidity as their credit growth is significantly low due to lack of efficiency and default loans, said a senior executive of a state-owned bank.  Of the total excess liquidity, about 57 percent, or Tk 63,460 crore, belongs to state banks. Private commercial banks have Tk 35,520 crore.
Although the demand for credit is rising, the growth rate will remain within the monetary target of 16.5 percent set for June, said a senior executive of the central bank.
MA Halim Chowdhury, managing director of Pubali Bank, attributed the fall in credit growth to the banks' increased emphasis on loan recovery instead of disbursement. Increased SME loan and consumer financing contributed mostly to the surge in credit growth in the last few months, said Mohammed Nurul Amin, managing director of Meghna Bank.
SME loan disbursement increased about 22 percent to Tk 141,935 crore from a year earlier.
As of December last year, consumer financing stood at Tk 55,971 crore, up 14.2 percent year-on-year.
Consumer loan saw a faster growth due to the falling lending rate, said a senior official of a private bank.
In April, the weighted average lending rate came down to 9.52 percent, according to data from the Bangladesh Bank.
Industrial term loan registered a 9.8 percent year-on-year growth to Tk 19,575 crore in the October-December period of last year.