Businesses cautiously optimistic about economy: survey
Bangladesh's top business executives have a reasonably high level of confidence in their economic outlook thanks to increased investment in power generation, green revolution and mechanisation in the agriculture sector, according to a new survey.
Higher disposable income and consumer spending, growing health awareness, and the government's particular interest in the ICT sector also boosted the confidence level.
ICT and IT-enabled services, pharmaceuticals, agro-processing, power and energy, footwear and garment hold the highest growth potential in the coming decade, said the LightCastle Business Confidence Index 2017-18.
LightCastle Partners, a consulting firm based in Dhaka, unveiled the results of the survey of 102 top executives across 12 industries and spanning two major cities, namely Dhaka and Chittagong, at a programme held yesterday at the capital's Lakeshore Hotel.
Interviews were carried out between September 26 and November 12, 2017.
The confidence index aims to gauge business sentiments of private sector players representing a variety of industries across the economy.
The survey showed business confidence went up from "low-to-moderate confidence of +39" in 2016 to "a cautiously optimistic confidence level of +43" in 2017. The index is determined on a scale of -100 to +100.
However, some concerns still remain: classified loans condition, bureaucratic red tapes for doing business, recent slump in garment prices, transportation and logistical hassles and infrastructure bottlenecks such as port congestions.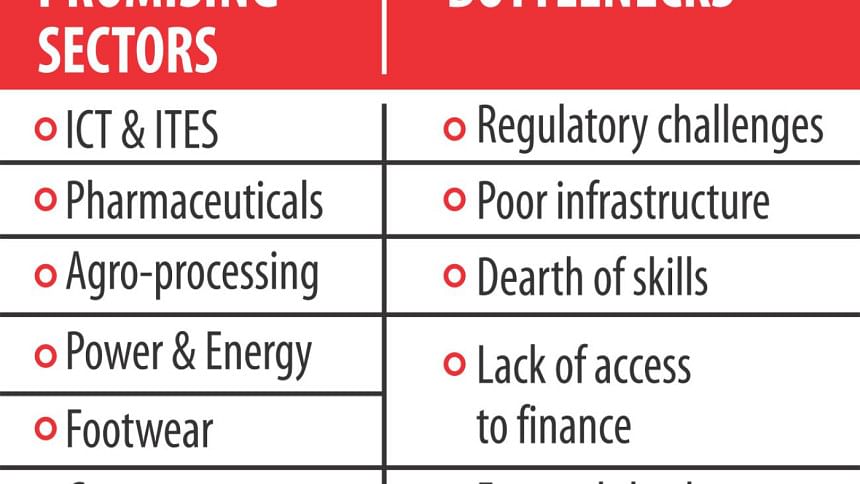 The business people surveyed said the government bureaucracy and a lack of unity among state entities slow down operations.
Raw material import dependency, especially in the cement and pharmaceutical industries; the per unit fall in value in the garment sector; and working capital management in the ICT sector were identified as major problems.
Moreover, power outages have increased production costs and final prices as manufacturers have to rely on their personal backup generators. The business leaders feel a raft of actions can help improve the current scenario along with investor confidence. 
They called for shifting export reliance on the garment sector, facilitating the ease of starting and doing business, and improving infrastructure and logistics.  Bijon Islam, chief executive officer of LightCastle, in the report said a deeper look suggested business leaders are confident on verticals like power and energy, ICT, and agriculture, while cautious on sectors like banking and finance, real estate and logistics.