Better domestic policies to boost trade
Says former WTO director general Pascal Lamy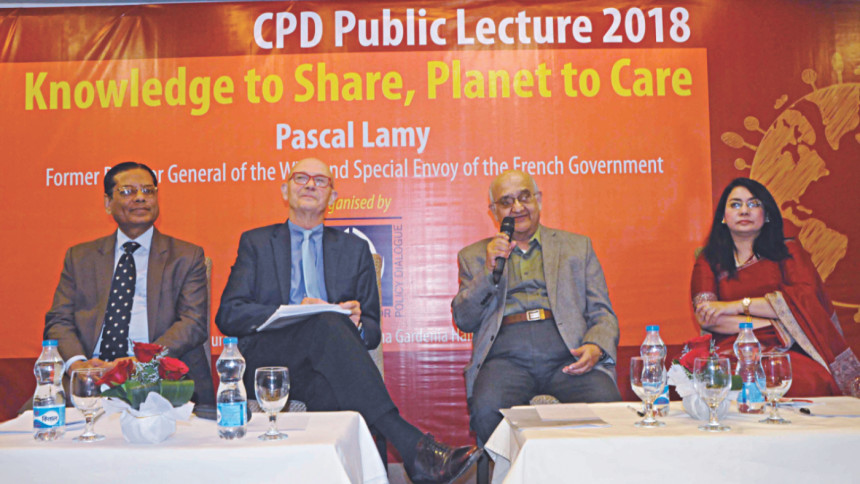 Better domestic policies are important for a country to benefit from trade, former WTO director general Pascal Lamy said yesterday.
"I do believe trade opening brings benefit on the number of conditions that has to be made," Lamy said.
"Some of these solutions are international. There is an issue of the fairness of the global trade regime and it is only partially been addressed in the recent decades."
There remain flaws in international role, not all by developed countries, he told a public lecture on "Knowledge to Share, Planet to Care" organised by the Centre for Policy Dialogue (CPD), a local think-tank, at Khazana Gardenia Banquet Hall in Dhaka.
But most of the solutions lie with domestic policies, said Lamy, who is now the special envoy of the French government.
He also stressed the need for policies such as competition policy, industrial policy, welfare policy and social security polices to reap benefits from trade.
Lamy is now visiting Dhaka to win support from Bangladesh for France's candidature to host World Expo-2025 which bears the theme of sharing knowledge and caring for the planet.
He said there was consensus that economic development leads to more welfare and brings less social and political conflict.
People have been living and acting together in the planet for a long time. "This positive relationship is somehow broken," he said.
He said the world economy faces two major challenges – rise in inequality and environmental degradation.
"We should acknowledge we have not addressed these in recent decades," he said, adding that a rise in inequalities was leading to an increase in social and political tension in many places.
Degradation of the environment also creates anxiety, he said.
Inequality is mostly a domestic issue, he said and suggested for addressing it through policies focusing on education, health, housing and taxation.
There are local problems and solutions should also come locally, he said.
On environmental degradation and climate change, he said it has to be addressed at the national level. But doing it alone will not work, he said, citing issues on protecting the oceans from pollutions which necessitate global action.
Migration now is also a cause for global concern, said Lamy, emphasising on sharing knowledge. 
"Knowledge is easier to share," he said. "We, the French, like Europeans, have a concept that knowledge of science has to be open."
CPD Chairman Prof Rehman Sobhan said there was an enormous amount of knowledge to be shared. 
He also stressed ensuring a just global trading system, citing that a shirt sold at $5 by manufacturers here is priced at $25 at retails in the west.
Sobhan suggested increasing the share of producers in the value of products.