Banks use expired credit ratings for lending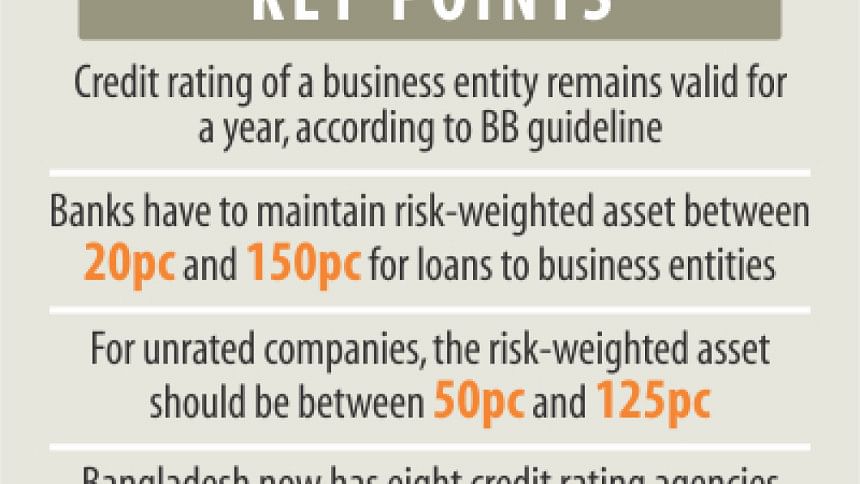 Many banks are allegedly using expired credit ratings of businesses while sanctioning loans to wriggle out of the regulatory requirement to keep a certain percentage of capital against the loans.
This prompted the central bank on January 24 to instruct all banks to calculate their capital requirements properly by using the latest credit rating of businesses.
The use of expired credit rating by banks will create an impediment to implementing the BASEL III guidelines in the banking sector, according to the central bank letter.
As per Bangladesh Bank rules, the credit rating of a business entity is valid for one year, but some banks have frequently been disregarding the directive.
At present, there are eight credit rating agencies in Bangladesh that give ratings in six notches. For example, CRAB's highest rating is AAA and the lowest CD --- based on a client's financial health.
When sanctioning a loan, a bank must keep 20 percent of the risk-weighted asset as capital for companies that have the best credit rating of AAA.
And the capital requirement increases with deteriorating credit rating. As much as 125 percent must be reserved when the company's capital rating is the lowest, which is CD.
Some banks might use the expired credit rating to avoid keeping the required capital, said Syed Mahbubur Rahman, managing director of Dhaka Bank.
The credit rating of a company will be downgraded if its business volume declines, said Rahman, also the chairman of the Association of Bankers, Bangladesh, a forum of banks' CEOs.
Some banks may use the expired ratings of businesses whose financial health have deteriorated, he said.
"Updated ratings of the companies should be used in the interest of the corporate governance of the banks. Capital is one of the major indicators to judge a bank's financial health," he added.
Hamidul Huq, managing director of the Credit Rating Agency of Bangladesh, told The Daily Star that banks might show reluctance in getting the latest rating to avoid additional cost. Banks may also neglect the issue thinking that they will have to keep more capital if the rating of the companies gets downgraded, he said.
"Fluctuation in financial health of companies is common. So, the banks should consider the updated rating while sanctioning loans," said Huq, also the chairman of Association of Credit Rating Agencies in Bangladesh.
The credit rating agencies are: Credit Rating Information and Services, Credit Rating Agency of Bangladesh, Emerging Credit Rating, National Credit Ratings, ARGUS Credit Rating Services, Alpha Credit Rating, WASO Credit Rating Company (BD) and The Bangladesh Rating Agency.