Banks step up efforts to cut cost of funds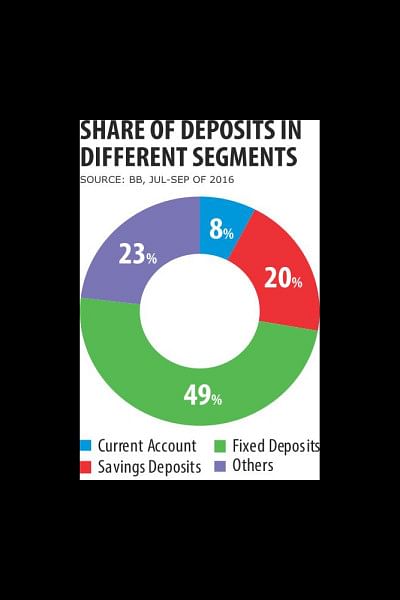 Private banks have now turned their focus on bringing down their cost of funds to get a competitive edge over peers in the saturated market, bankers said.
Of the 39 private banks, most have taken different measures to increase the contribution from non-term deposits like current and savings account (CASA) to their deposits.
A CASA, which combines savings and checking accounts into one, operates like a normal bank account in which funds may be utilised at any time.
Because of the flexibility, a CASA has a lower interest rate than a term deposit as the bank does not have a guarantee all the funds are available to loan for a specific period of time.
Typically, interest is accrued on monthly average balance and applied at each quarter-end on such accounts. And the interest rate tends to be between 2 percent and 4 percent.
A higher CASA ratio indicates a lower cost of funds. If a large part of a bank's deposits comes from these funds, it means that the bank is getting those funds at a lower cost. In India, it is used as one of the metrics to assess profitability.
Bangladesh Bank data shows fixed deposits, which are costlier than other types of deposit products, have been declining over time.
The share of fixed deposits stood at 48.84 percent in the July-September period of last year, in contrast to 51.82 percent a year earlier. Fixed deposits accounted for over 70 percent of the banks' total funds four years ago.
"CASA has become my passion," said Anis A Khan, managing director of Mutual Trust Bank, which has been doing well in attracting this low-cost fund in last several years.
A few years ago, MTB's CASA ratio was 20 percent. Now, it is 38 percent. MTB's CASA ratio has been growing at double digits in every year since 2008 except for 2012 when the bank went through restructuring to set up alternate delivery channels like cash machines, internet and SMS banking, credit cards, 24-hour call centre.
"That investment is now helping the bank grow its CASA ratio heavily," Khan said, adding that the launch of 20 agent  banking centres over the last 8 months will
also contribute to the growth of CASA ratio in future.
The issue of managing the cost of funds has come to the fore in recent years, especially after the growing competition among banks to grab good borrowers, said Ehsan Khasru, former managing director of Prime Bank and an adviser of Premier Bank.
Jamuna Bank, which is a third generation private bank, has also emphasised on boosting its CASA ratio. The bank's CASA ratio edged up to 20 percent in 2016 from 18 percent a year earlier.
"There is no option other than managing the cost of funds to remain competitive in the market," said Shafiqul Alam, managing director of Jamuna Bank.
Alternative delivery channels and reputation help a bank get low-cost deposits, he said.
At Pubali Bank, the largest private bank in terms of branch network, high-cost deposits accounted for 35 percent of the funds in 2016, down from 40 percent a year earlier, said Abdul Halim Chowdhury, its managing director.