Agent banking expands fast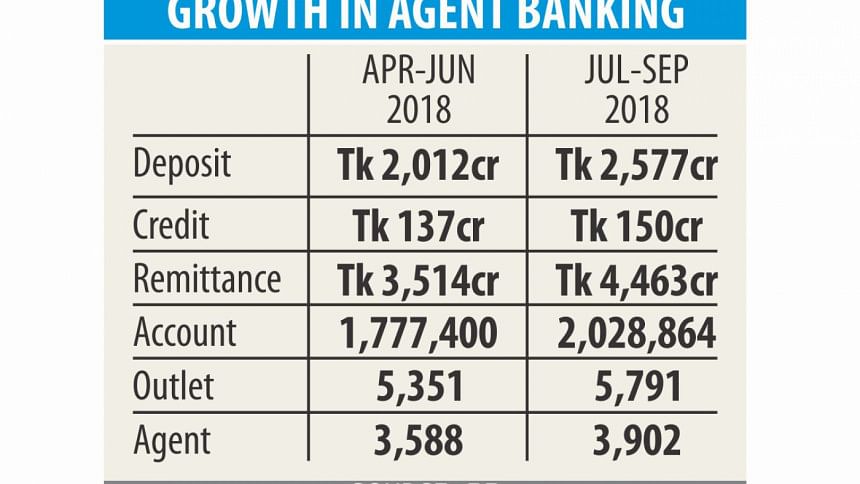 Agent banking, which takes banking services to the unbanked people, is going from strength to strength, with both deposit collection and loan disbursement on the rise.
Lenders earlier kept their core focus on collecting deposits from clients through the new banking wing but they have recently given the same importance to loan disbursement. 
As of September, loan disbursement through the agent banking channel was Tk 150 crore, up 9.80 percent from a quarter earlier. At the same time, deposit collection went up 28 percent to Tk 2,577 crore, according to data from the central bank.
Banks commenced loan disbursement through the wing around the turn of the year, said a Bangladesh Bank official. "Loan disbursement through agent banking will soar real fast."
There remains huge scope for widening agent banking as lenders are yet to extend their traditional banking service to the large numbers of unbanked people, said Md Arfan Ali, managing director of Bank Asia.
Banks have so far set up 5,791 agent banking outlets in the rural areas, whereas the countryside requires nearly 25,000 shops to bring the unbanked people under the formal financial umbrella, he said.
"The tremendous growth of agent banking proves that the underprivileged people are keen on banking services."
He went on to call for disbursement of farm loans through the agent banking channel such that farmers can get low-cost credit.
Farmers continue to face interest rate as high as 25 percent for agriculture loans as many banks prefer to disburse them through non-government organisations that keep a cut for themselves.
In the process, the central bank's intent to extend low-interest loans to farmers gets defeated. If the loans are disbursed through bank branches, farmers can get them at 9 percent interest rate.
But when disbursed through NGOs and microfinance institutions, the rate goes up to 20-25 percent as they take the funds from banks first at 9 percent interest and then give them out to farmers.
"Banks would be able to lend at nine percent interest if the agent banking channel is used properly," he added.
In fiscal 2017-18, farm loan disbursement stood at Tk 21,394 crore, 37.19 percent of which was given out through the NGO channel.
The central bank issued the agent banking guideline in 2013 but the licensees did not start full-fledged operations until 2016. Agents provide services such as cash deposits, withdrawals, remittance disbursement, small value loan disbursement and recovery of loans as well as cash payments under the government's social safety net programmes.
As of September, 18 banks combined have 20.28 lakh accounts, up from 14 percent three months earlier.