Banks breathe a sigh of relief
BB extends deadline to lower their loan-deposit ratio
Banks got a respite from the ongoing liquidity crisis as the Bangladesh Bank yesterday extended the deadline to lower their loan-deposit ratio to December 31 from the previous time limit of June 30.
Senior bankers welcomed the central bank move as it will go some way towards dissipating the liquidity crisis in the sector.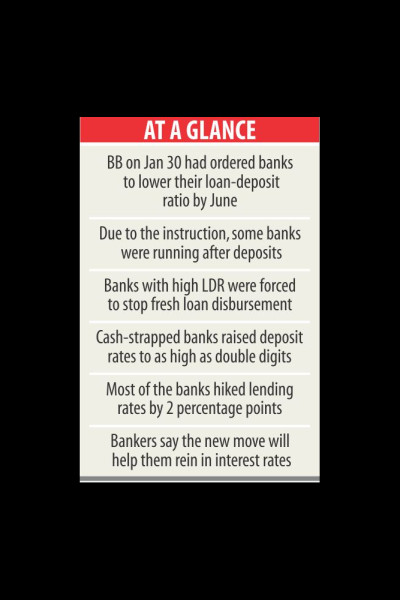 The central bank on January 30 ordered conventional banks to lower their loan-deposit ratio to within 83.50 percent by June from their existing ceiling of 85 percent and Shariah banks to 89 percent from 90 percent.
Some banks have recently been forced to stop fresh loan disbursement due to the central bank's instruction to lower the loan-deposit ratio by June.
"Had the deadline not been extended, it would have put an adverse impact on the banks' profitability," said a BB official.
Subsequently, the central bank revised the deadline to lift the cloud of restriction over the banks, he said.
"We appreciate the initiative as it will help us to hold back the upward trend of the interest rate on lending and deposit," said Syed Mahbubur Rahman, managing director of Dhaka Bank.
Md Arfan Ali, managing director of Bank Asia, said the banking sector will get a relief from the ongoing panicky situation.
"The banks were in panic mode. But the latest instruction has brought a tolerable situation for both the banks and clients," he added.
Md Abdul Halim Chowdhury, managing director of Pubali Bank, also welcomed the central bank's move, saying it would help in containing the interest rate.