Apparel exports to Turkey drop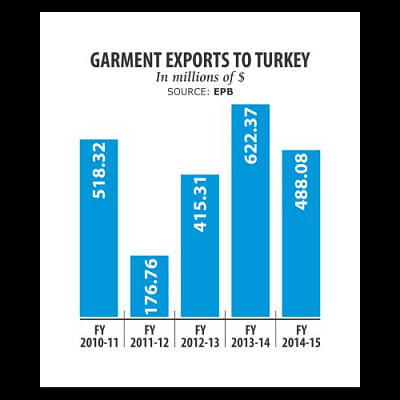 Garment exports to Turkey, a promising destination for Bangladeshi apparel, fell 21.58 percent last fiscal year mainly due to exorbitant duties slapped by the nation and the devaluation of the euro.
Shipment dropped to $488.08 million in fiscal 2014-15, from $622.37 million in the previous year, according to Export Promotion Bureau.
Bangladesh's garment exports to Turkey were rising fast even a few years ago because of a zero-duty benefit.
Turkey imposed a 17.5 percent duty on apparel imports from least developed countries in 2011 to safeguard its local industry.
Being an LDC, Bangladesh's garment exports to Turkey have begun declining since then.
Prior to the imposition of the duty, Turkish importers used to purchase Bangladeshi garments in bulk and re-brand the goods with new logos to export those to Russia, Bangladeshi exporters said.
The demand for Bangladeshi T-shirts, shirts, trousers and sweaters is still high in Turkey due to competitive prices, they said.
"In addition to the duties, the devaluation of the euro against the taka is another reason behind the decline in export value," said Reaz-bin-Mahmood, vice-president of Bangladesh Garment Manufacturers and Exporters Association.
Bangladesh on several occasions requested the Turkish government to remove the duties, but it did not happen ultimately, said Mohammad Hatem, a former vice-president of Bangladesh Knitwear Manufacturers and Exporters Association.
"Turkey is still a very promising destination for us, although the country is a major player in global apparel trade," he said.