4G auction after budget: Muhith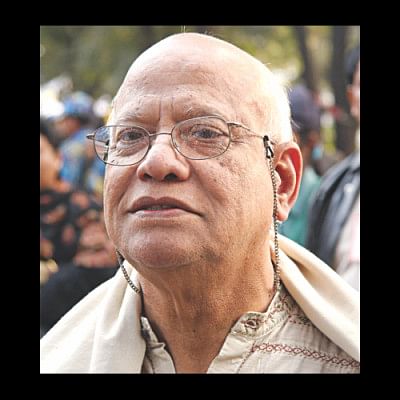 The auction of the 4G spectrum will take place after the announcement of the national budget for next fiscal year, Finance Minister AMA Muhith said.
The minister spoke after a meeting with Sigve Brekke, president and CEO of Telenor Group, which owns the majority stakes in Bangladesh's largest mobile phone operator Grameenphone.
The Telenor Group chief met with Muhith on a courtesy call on the sidelines of the World Bank-IMF Spring Meetings at Washington in the US.
Since Muhith raised the allegation of frequent call drops in voice services, Brekke informed the minister that the allocated spectrum for Grameenphone had been divided into two parts-- voice and data services.
There are unused capacities in data services, while there are over capacities in voice services that result in the call drops, Brekke said.
If the regulator gave more spectrums, the Telenor or the Grameenphone would not have to set aside something for data and something for voice services.
"They [operators] want it as soon as possible; I also want to give it soon."
He said: "Our knowledge in the sector is very poor. But the changes are happening very fast in the world."
Muhith said the 4G auction was delaying due mainly to disagreement between the Bangladesh Telecommunication Regulatory Commission (BTRC) and the operators on spectrum price.
The BTRC wants to set a high price for the spectrum while the operators want it to be low, he said. The BTRC has 15 MHz of unsold spectrum in the 2100 band, 10.6 MHz in the 1800 band and some spectrum in the 900 band that was released from Airtel after its merger with Robi.
Mobile operators use the 2100 band for 3G services and 900 and 1800 bands for 2G services. But after getting technology neutrality, they can use the latter two bands for 4G services, which will be cost-effective.
The finance minister also sat with the leaders of US Chamber of Commerce and the business leaders who have investment in Bangladesh.
Representatives of US Chamber of Commerce, Chevron, American Apparel & Footwear Association, The Coca-Cola Company, ExxonMobil, Bower Group Asia, The Boeing Company, Walmart, Centre for International Private Enterprise and MetLife attended the meeting.
"Since they have investment in the country, the purpose of the meeting was to know about Bangladesh and the key prospects of the country, and raise their problems," the minister said.