1.67 lakh metric tonnes of onion imported in 3 months: CIID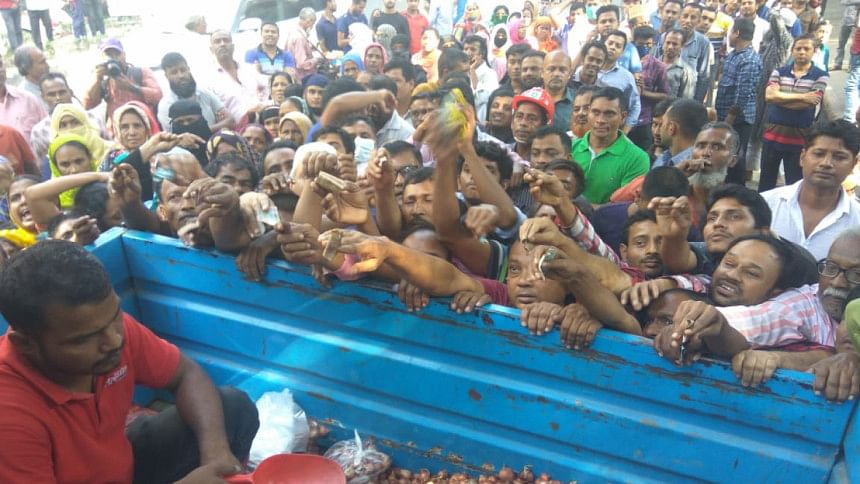 The country has imported over 1,67,806 tonnes of onion since August at a cost of Tk 660 crore.
"A total of 1,67,806 tonnes of onion were imported through different land ports from August to November 18," Shahidul Islam, Director General (DG) of the Directorate of Customs Intelligence and Investigation (CIID) told journalists at his Kakrail office in Dhaka today.
Some 341 importers imported the huge bulk onions through different land ports including Banglabandha, Benapole, Bhomra, Hili, Sona Masjid, Teknaf, Chattagram and Dhaka Customs House during this time, the official said adding Tk 660 crore was spent to import this cooking essential.
Of the total import, 51,649 tonnes came through Sona Masjid land port, 46,370 tonnes from Bhomra, 34,861 tonnes from Teknaf, 24,308 tonnes from Hili, 6,693 tonnes from Chattagram, 171 tonnes came through Bangla Bandha and the rest 27 tonnes through the Dhaka Customs House.
Meanwhile, the Customs Intelligence and Investigation Department summoned 37 onion importers to carry out investigation into the cause of the unusual onion price hike.
An intelligence investigation team led by a CIID additional director general began the investigation.
The department already collected necessary information about 332 onion importers to identify those responsible for creating a volatile situation in the onion market.
On November 25, the CIID quizzed 10 onion importers.
Since India's export ban on September 29, onion prices have been on the rise in the local kitchen market. Local onions still are being sold for as high as Tk 250 per kg in the city's kitchen markets, while onions imported from Myanmar for Tk 230-240, breaking all the previous records.