Onion prices fall at wholesale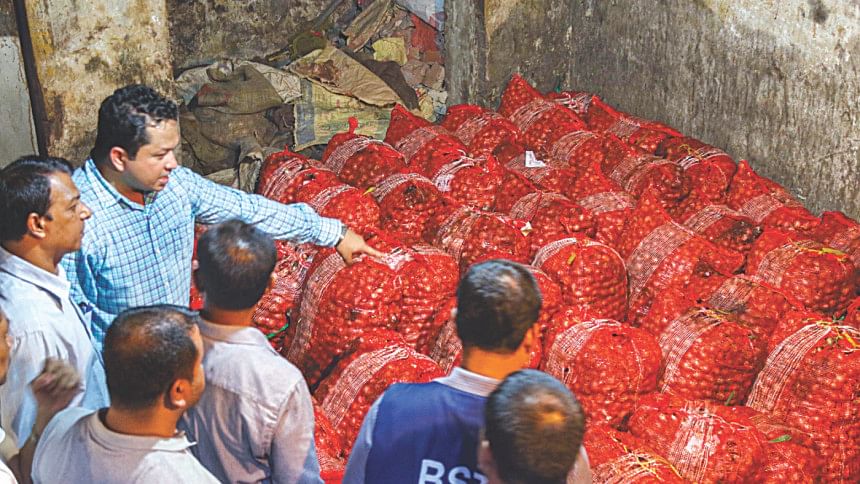 Amid increased import of onions from Myanmar, prices of the essential cooking ingredient came down a little in the capital's wholesale markets yesterday, a day after the price skyrocketed following an export ban by India.  Prices of locally grown onion fell to Tk 75-Tk 80 per kg yesterday from Tk 88-Tk 90 a day before at Shyambazar market, one of the biggest wholesale spice markets in Dhaka.
Mohammad Abdul Mazed, general secretary of Shyambazar Onion Wholesalers' Association, confirmed the price drop.
Prices at the retail market, however, remained unchanged.
Narayan Saha, a wholesale trader of different spices at the Shyambazar market, said the increase in onion imports had brought a change in the buying behaviour of retailers.
"They are purchasing less than the usual, assuming the price may fall further," he added.
The government has imported around 4,142 tonnes of onions from Myanmar since early September, and some 569 tonnes were imported yesterday alone.
Around 420 tonnes of onions were unloaded at the Chattogram port in the last four days, reports our Chattogram correspondent, citing Omar Faruk, secretary at the Chattogram Port Authority.
Additional 350 tonnes could not be unloaded due to procedural delay, Omar said.
Around eight to 10 lakh tonnes of onions are imported to meet the annual demand of around 24 lakh tonnes.
In Chattogram, wholesalers were found charging higher prices, ignoring directives from the Chattogram district administration.
Traders at the city's wholesale hub of Khatunganj and adjoining Chaktai markets said they were commission agents and were unable to sell at a price lower than what was fixed by the importers.
Md Aminul Islam, an onion wholesaler in Pabna, said wholesale prices of locally produced bulbs dropped 11 percent to Tk 3,600-Tk 3,700 per 40kg yesterday from Tk 4,100 the previous day.
Meanwhile, the commerce ministry, in a statement issued in this regard yesterday, said there is nothing to be panicked, adding that there is no shortage of onion supply in any market in the country.
The ministry has taken several measures, including speeding up the clearance process of imported onions, and assigned 10 high officials to monitors the markets of major onion producing districts, the statement also read.
Besides, onions were sold at Tk 45 per kg from the trucks deployed by the Trading Corporation of Bangladesh.
Yesterday, the state-run agency doubled the number of trucks to 35 in Dhaka.