15 lakh Samsung smartphones assembled in Bangladesh in 1yr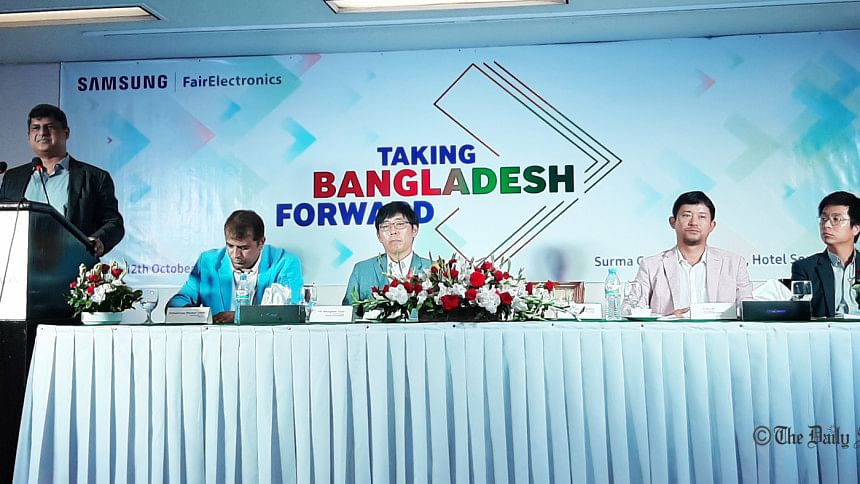 Samsung has assembled about 15 lakh pieces of smartphones at their plant in Bangladesh in one year which is 96 per cent of their total sale of the same period in the country, its local partner Fair Electronics Ltd said today.
In a press conference at Pan Pacific Sonargaon Hotel, Chairman of the company Ruhul Alam Al Mahbub said they are targeting to assemble 25 lakh prices smartphones next one year and by March they will stop importing Samsung device as they are moving to assemble Galaxy Flagship products within next few months.
"We can assemble all the device from our factory and there will not be required to import any Samsung phone after March," said Mahbub.
Fair Electronics Ltd has set up a mobile plant with their other appliances in Narshindi two years back and started assembling 4G smartphones from last year.
From this factory, Fair Electronics is doing about 35 per cent value addition and within next few years value addition will increase up to 45 per cent as there are planning to set up a PCBA motherboard manufacturing system in their plant, which Mahbub said will be a milestone for Bangladesh.
"With the Samsung Galaxy Flagship products, we will also move to assemble tablets from our market and thin there is a huge demand of tablets in the market," said Mesbah Uddin, chief marketing officer of the company.
Currently, Samsung is the top player in the smartphone segment where they have 31 per cent market share in terms of volume which is 48 per cent in terms of value.
In the event Samsung's country manager Seungwon Youn said as the first multinational mobile device company that set up assembling plant in the country, they want to be the major technological partner of the country.
In the event Samsung mobile's senior director H D Lee and general manager Bomin Kim also present.