The Power of Humour
AUTHOR: SYED MANZOORUL ISLAM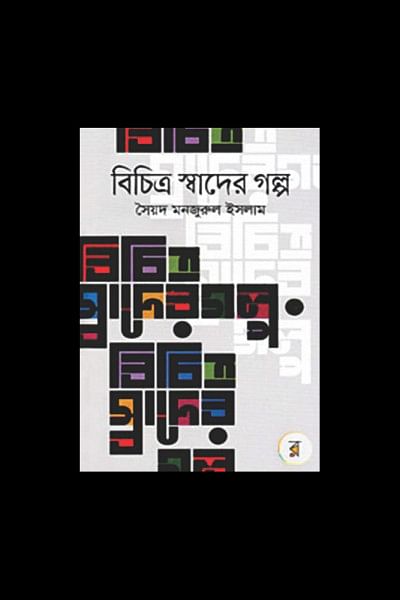 Publisher: Chandrabati Academy, First Publication: February 2017, Price: Tk. 250 US $ 13, ISBN: 9789849286653
Fun, pun, humor and satire are what characterize most of Syed Manzoorul Islam's works and his newly published Bichitra Swader Galpa(2017)ceases to be an exception. An intuitive power of evoking fun out of otherwise an ordinary and mundane situation, gives him a cutting edge over many of his contemporary literary colleagues. The new collection of twenty-one stories will tickle you into laughter every now and then. But, I can bet you cannot rule them out as apotboiler or "light stuff" although he claimed so in the foreword. They make you laugh, but the laughter at times stings you, pricks you, taunts you, teases you, and galvanizes you into consciousness. They also act as a gibe against political wrongdoings, social anarchy, degrading of cultural values, economic corruption and many other corrosive practices. Nevertheless, optimism and positives shoot up at regular intervals that make the stories an interesting read. It must be noted, however, that most of the stories were previously published across fun magazines of the national dailies such as The Prothom Alo's now defunct "Alpin", current "Rosh-Alo" and The Ittefaq's "Thatta".
The book commences with a story titled "Ekti Asharhey Galpa 1" (A Weird Story 1) that puts forth a utopian picture of Bangladesh that is utterly digitalized, technologically hipped, and incredibly modernized with Dhaka University leading from the front on research sectors. Bangladesh regularly sends up rockets to the moon and the mars topping the whole world. The national cricket team beat Australia 5-0, but the skipper gets slashed in media for getting out in the 190's. Sabrina, a Tongi girl has recently won the Wimbledon trophy in tennis. The young communication minister shows up on a commuter train and gets angry hearing that the train delayed for a while the day before. Air-buses and underground trains have boosted up communication. The minister for food resigns from the cabinet to avert a slight allegation of food adulteration. Media is transparent and pro-people. A 24/7 active high-power hotline service called "hi-mail" allows people send in allegations on anonymity and two or three such cases provoke an immediate response from the authority. This sarcastically presented and laughably exaggerated account of the country exposes and points up the bleak reality of actual Bangladesh.
The second story is a sequel named "Ekti Asharhey Galpa 2" which hits hard at the core of power-blind political set-up. The narrator terms schoolmaster Majeed, his communist son Assim, banker son Hashim, college-student daughter Nishat, Hashim's honest journalist-friend Pijush Roy a party of fools for their tremendously naïve, tactless but honest dealing of things. Especially, in their approach to convince the Powerful to manage to release Assim from imprisonment on a trumped-up case put by the Powerful himself. The journalist Pijush Roy got a hard beating on his outing at Dinajpur at the hands of the henchmen of the Powerful and a strong reprimand from the editor of his daily Satchinta (The Honest Thinking, ironically though). Nishat got kidnapped by them on her way to Dinajpur along with her father. This incident enraged Mr. Majeed so much so that he took out an ax to take revenge and rescue his daughter. To his surprise, one by one a huge crowd followed him shouting "We are with you!" This armless crowd frightened the Powerful almost mortally resulting in release of both Assim and Nishat. By rendering the Powerful comically and pitiably helpless in the face of non-violent popular upsurge, the writer makes light of the powerful class and pushes the idea of resistance home.
The story titled "Kraanti" (Crisis) is the story of an apparently miserly old man called Mr. Kalam. His overly economical attitude repulses his children, even their housemaid Razia does not miss out a chance to make fun of him. The narrator later comes to learn that Mr. Kalam's low-income job forced him to be economical what his children mistake for miserliness. However, on an economy class train he met Awlad, a member of a doping gang who misjudged Mr. Kalam's words to think that his bag was full of valuables. Doping him with juice, he robbed the bag. Incidentally, the senseless old fellow was taken to a hospital where Dr. Reefat, daughter of Dr. Azizul Haq of Satkhira works. Dr. Azizul Haq, a self-declared cancer expert was responsible for the death of Mrs. Kalam and he fled Satkhira after a few such occurrences. Dr. Reefat and Mr. Kalam recognized each other in a turn of event. Learning from her that her father donated all his money for setting up the clinic out of remorse and for expiation, his mindset totally changed. The miserly Mr. Kalam too donated all savings to build up an extension of the clinic after his deceased wife's name. Thus, the story comically explores a human dimension of an otherwise misunderstood fellow. On the other hand, the story "Bhejal" (Adulteration; Fake; Artificial) is a brutally comic exposure of the effect of the availability of adulterated products, fake notes, artificial stuffs deluging the market. A funny man named Mr. Shamim who utters only "Yeh" to mean almost everything is forced by his wife to go to an emporium famed for quality and genuine items for Eid shopping. There he comes to learn that prices of articles he bargained for reduced in four times less after a mobile court led by a magistrate had launched an anti-adulteration-slash-fakeness drive in the market with a TV channel broadcasting it live. This amused him so much so that he agreed to come back to the market again this time with his wife and daughter despite his wife's wish to spare him such trouble. He asked his TV reporter cousin to accompany them with a camera and replied that there was "yeh" when his daughter asked about the move. Although his wife and daughter understand without fail what he means by "yeh" in all contexts, they could not figure out the meaning of "yeh" this time. This story, therefore, spotlights the ubiquity of adulteration and fake elements in the country and our passive acceptance of the reality.
"Chair-erGalpa" (Story of the Chair) and "Qursi Puran" (Legend of the Chair) are thematically twinned stories that deals with our craze for the chair which is symbolic of power and authority. In the first story, the writer humorously says that there are two types of government in Bangladesh: Caretaker and Chair-taker. He also goes on to say that the chair-taker government does not take care of common people. He further says, "In fact, all politicians, political parties, bureaucrats and hypocrites chase one aim and objective: that is the chair."(p. 59) He also classifies the chair into two categories: the good chair and the bad chair. The writer quips that the chair with lesser power and more popular orientation is bad while that of the politicians and other highly powerful people is good. He also expects that the hair-raising electric chair can make the country fair by killing all the bad people. Yet, the load-shedding and power outage is so common in the country that the electric chair will be rendered ineffective. In this manner, the story laughs at the power-craze of a group of people and acute power deficit on the national grid. In the same vein, "Qursi Puran" allegorically depicts a long history of pre- and post-liberation Bangladeshi politics that is characterized by unrestrained greed for the chair or power. The archrivals Qazi Habib and Qazi Qadir sit one after another on an old chair, their common family legacy, this time only to be bloodily wounded in their bottoms. The young members of both the families put some pins on the chair in a bid to punish their hostile seniors. This comical treatment of the power-hungry people is indicative of both dismissal of and popular resistance from the young generation to the age-old, worn-out political status quo. Another political allegory that receives comical negation and satirical assault is "Haar-Jeet" (Win & Loss). The story develops around a football tournament which allegorically represents the national election. The tournament committee represents the election commission or the caretaker government while the two archrivals signify the two main political parties of Bangladesh. Humorously enough, public opinion is here in the story compared to "public onion", onion that makes you cry when peeled off. Thus, the power of common people as opposed to that of the political forces is reinforced.
Syed Manzoorul Islam brilliantly criticizes our sociopolitical reality in the volume Bichitra Swader Galpa in a somewhat Swiftian manner and pushes home a Bakhtinian resistance triggered by subversive laughter and fun. His signature style of playing with words, use of pun, employment of comic irony and sarcasm, coinage of funny words, fluidity of idiomatic Bengali,an appropriation of real-life events and witty presentation of storylines make the volume a page-turner. He deftly puts his points across and adroitly hits his criticism home without compromising the literary value. I reckon, this is a scintillating addition to contemporary, Post-Modern Bangladeshi literature, and also in the genre of satire. My review is but a skeleton of the book, and there are much more to explore in the text. I believe, your bucks and time are worth spending when it comes to buying as well as reading the book.
The reviewer studied English Literature at University of Dhaka.