SHABDAGHAR
(A monthly Magazine of Culture and Literature), EDITOR: MOHIT KAMAL, (PUBLISHER: MAHFUZA AKHTER, AGAMI PRINTING & PUBLISHING CO.)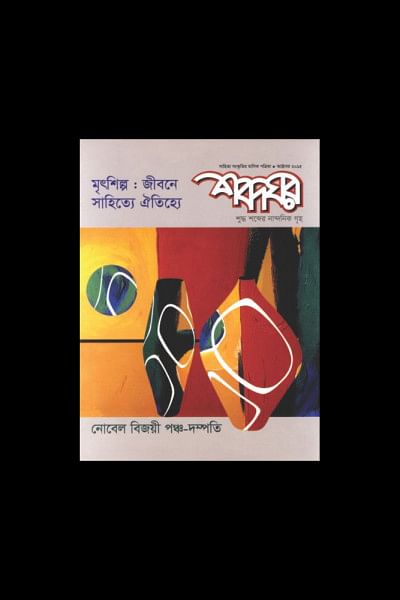 Shabdaghar, a monthly magazine of culture and literature centers on the glorious treasures of Bangla art, culture and literature. It is edited by Dr. Mohit Kamal, a renowned psychiatrist and popular Litterateur who is mostly known for his psychological novels. He has managed to compile the literary works of prominent writers from home and abroad in this magazine. Added to this, he has introduced the readers with some distinct concepts by his inquisitive and subtle insights. The sub-title of the magazine has been named Suddha Sabder Nandonik Griha (Aesthetic Home of Pure Sound) which is a new addition to the world's Art of Sound. Excellent combination of cultural and literary write-ups and other related issues make it exceptional from other monthlies. The editor tries to intersperse those works which mainly depict the society, culture, tradition, values, literature, folklores of Bengalis' eternal and traditional life. He always attempts to give diversity to different editions highlighting different subjects. It generally covers these topics: Supplements, Article, Flashback, Memoirs, Conversations, Travelogue, Poetry, Story, Commemoration, A centennial tributes, Serial publication: Novel (Translated), Music Reviews, Book Reviews, World Literature, Little mag, Special Article, Cover Story, Feature writing, Award News, Unpublished work, About book, Page for Teenager etc. The advisors panels of this magazine consist of notable figures: Belal Chowdhury, Sirshendu Mukhopaddhya, Anowara Syed Haque, Mohit-ul-Alam, Kamal Chowdhury and Harishankar Jaldash. Inspired by the spirit of liberation war, SHABDAGHAR primarily galvanises its readers to uphold Bengali national identity and indigenous values. Pottery: In Life, Literature and Tradition, March of Liberation and Freedom, Cultural Variety and Joy of festivals etc. are the topics of different editions which indicate how much these are synonymous with the Bengali life and culture. 
The distinguished figures like Nirmalendu Gun, Hasan Hafizur Rahman, Hari Sangkar Jaldas, NasrinJahan, Mahfuzul Hasib Chowdhury, Syed Manjoorul Islam, Fatematuzzohora, Rezwana Chowdhury Banna, Sudhir Chokrobarty, Mahbubul Haque, Sumonto Aslam and others frequently contribute to this monthly and their regular contributions have gradually metamorphosed it into a unique volume and help it secure a different entity. 

The reviewer is a major in English Literature and part time reviewer.