Mangoes, lychees, and childhood memories in 'Amar Chelebela'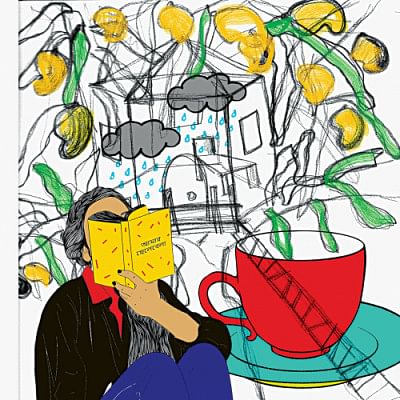 For me, Amar Chelebela (1991) by Humayun Ahmed would not only be a summer read but also a comfort read, a holiday retreat, a walking tour of a Bangladesh unheard of today, and also a sneak-peak into the daily bustle of a family who redefined literature, science fiction, caricatures, humour and so much more. It is a book that I have read numerous times over the years—while stuck in traffic, on flights, at home over tea and just last week, on the balcony while it was raining outside (the best way to read it for sure!) 
I absolutely love the book, because it travels from Bangladesh in the early '40s and '50s all the way to post-liberation days and back to when Ahmed was just a child, roaming about the streets without a care in the world.
He talks about how life as a toddler for him began away from his young mother, growing up with his aunt, at his grandmother's. His mother Ayesha Khatun was suffering from typhoid and had lost a year or two from her memories because of the illness. Humayun Ahmed's description of his mother regaining her memory and suddenly remembering her baby boy would have the reader smile and cry at the same time. Because his father Foyzur Rahman Ahmed was in the police, his never-ending transfers would have the family travel all over the country. Each district and city would hold mysteries and adventures. 
There are many stories that I look forward to reading when I pick up this book. One is of the family's annual Eid vacations. I wonder in awe at his descriptions of the long train rides to his nanar bari; the cups of steaming tea early in the winter morning during station breaks, and how Ahmed's nanar bari was a tad bit louder than his dadar bari—reserved, religious, yet breaking age-old barriers.
Interestingly, most kids back then would grow up with two or three different names. Young parents could suddenly change the name of their 4-year-old to that of a beloved relative who has recently passed away, or a character from a book they have read. Humayun Ahmed had at one point been Kajol and at another, Shamsur Rahman! In many of the chapters he refers to himself as Kajol, as do the others around him.
Even though these chapters follow the stages in his life, travels, and personalities, the text speaks of everything and anything that probably came to Ahmed's mind while he was writing. Sometimes, his topics overlap. 
Now that I have established the fact that Amar Chelebela is for all seasons and can be enjoyed the year round, I would however recommend it for the scorching heat of the Bengali summer—whether reading it for the first time or the 100th. Summers in Bangladesh are incomplete without mangoes, lychees, jackfruits and black plums (jaam). Believe it or not, so are the stories in Amaar Chelebela! While some of them will fill you with laughter, others will bring tears to your eyes, for instance when he writes about his father and his honesty, his eccentricities and finally when he was killed during the war. Humayun Ahmed's reflections of the world he grew up in and the many experiences that shaped him are all filled with passion, wit and the urge to return to childhood and relive life again.
Isn't that what many of us yearn for, sometimes?
Elita Karim is Editor, Arts & Entertainment and Star Youth. She tweets @elitakarim.