Did we need a Boi Mela amidst a pandemic?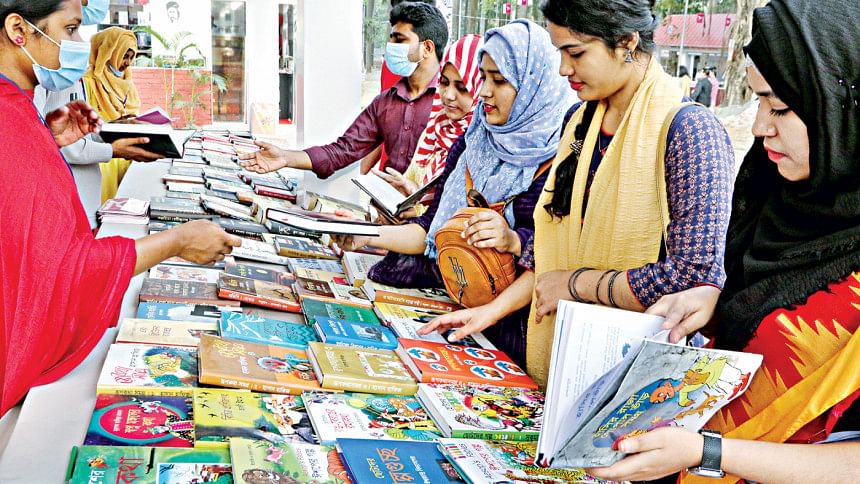 I was in the middle of a hectic shift at Dhaka Medical College Hospital a few days ago when I heard a close colleague was down with fever and severe body ache—symptoms typical of COVID-19. By the next day, his whole family had been critically affected. It is not very likely that his family will come out of this wrath unscathed. Instances like this do not shock me or my colleagues anymore; this has been routine for the last year.
Despite the slight ray of assurance offered by the vaccine, at the time of this writing, 570,878 people were infected in Bangladesh according to the IEDCR. The DGHS has suggested re-enforcing a lockdown and keeping educational institutions closed. And yet the emergence of a new deadly strain has not been enough to keep people confined to their homes or maintain the bare minimum health precautions. So, it is not exactly pleasing to see that just a few minutes' away from my workplace, people are gathering in large numbers for the Ekushey Boi Mela 2021 inaugurated on Thursday, March 18.
Literary and cultural events across the globe have been affected by the pandemic. Most organisers have adapted to the changed reality and shifted events to virtual spaces, as is true for The New Yorker Festival or The Jaipur Lit Fest, while others like the Dhaka Lit Fest decided to postpone their events altogether. The Summer Olympics are on hold for the first time since World War II. Bob Dylan's decades-long Never Ending Tour saw its first year of inactivity, as has every major music and film festival in the world.
What makes the Boi Mela such an absolute necessity that it must go on even at the cost of human lives?
The answer is that it accounts for the largest bulk of annual book sales for Bangladeshi publishers. To discourage readers from purchasing their books this year is to potentially harm an industry that, as of July 2020, incurred losses worth BDT 4,000 crore owing to the pandemic, according to Shaheed Serniabad, president of the Printing Industries Association of Bangladesh. The loss of this industry would be an irreparable one for our culture, and it would damage the livelihoods of close to five lakh people making up the publishing world—the writers, artists, editors, printers, binders, and publishers who barely stay afloat through the sector's scarce few funds and resources.
These issues are the reason why so many of us complain about the subpar quality—the text, formatting, printing, and expertise of editing—in locally produced books, and this is why we lean towards books from abroad. It is hard to think of any other publishing industry in the world that follows a similar trend.  
The circumstances this year offered a perfect opportunity to evolve with the times. But when Bangla Academy initially suggested that this year's fair be held virtually, publishers and creative association representatives protested that this would disrespect the fair's cultural legacy.
For years, the Boi Mela format has been limited to launching and discussing new books, and, of course, devoted fans piling up around writers for autographs. None of these are good enough reasons to be endangering public safety. How sustainable is it for an industry to rely on a single annual event? Could we not have innovated by trying out a virtual format this year, ensuring both safety for visitors and revenue for publishers and writers?
Responding to publishers' demands, the organisers are enforcing as many precautions as they could have—volunteers are checking body temperature at the entrance, regular public announcements are reminding the crowds to keep face masks on, and the stalls are more spread out. But we have to hope that the tens of thousands of people flocking to the book fair will actually follow these precautions and that they will disinfect their purchases upon returning home. 
Mursalin Mosaddeque contributes essays and book reviews for Daily Star Books. He is currently working as an intern doctor at Dhaka Medical College Hospital.
Email: [email protected]