Boi Mela 2021: Huge blows dealt to the publishing industry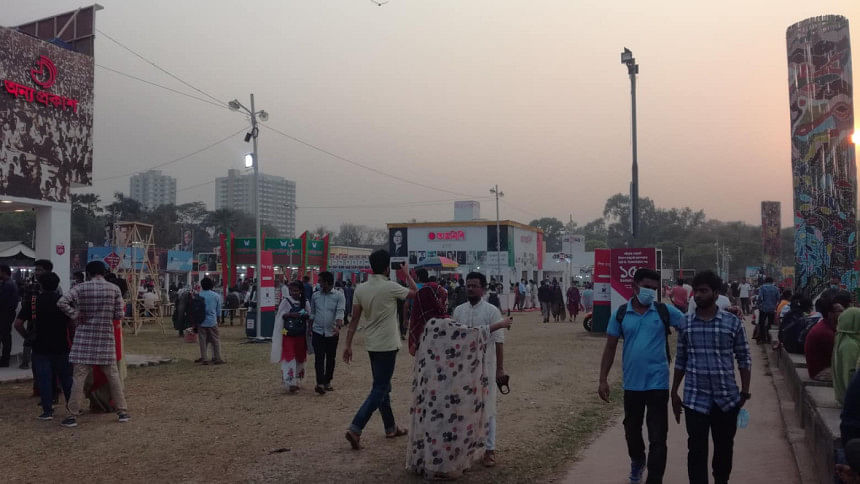 A pandemic, closure of public transport, shortened hours, and the uncertainty stemming from it all framed the experience of this year's Ekushey Boi Mela—a first in the long history of the celebrated book fair. The chill of departing winter was also replaced by a discomforting heat this year, as the event shifted from February to the months of March and April. Yesterday afternoon, the event began slowly closing its doors, after a week of near-inactivity.
Very few visitors were seen on the last day of the Boi Mela yesterday, it being a working day.
"Sales were very low this year. For how long can we just sit around?" Ajay Roy of Tangan Prokash told The Daily Star while closing up their stall several hours before the fair ended. Royal and Bangla Prokash similarly closed shop ahead of time.
Mawla Brothers publisher Ahmed Mahmudul explained that Bangladesh's golden jubilee and Bangabandhu Sheikh Mujibur Rahman's birth centenary gave them high hopes for the 2021 book fair, particularly after the financial struggles caused by COVID-19 the year before. "But the circumstances didn't favour us. The government can help recover some of our losses by raising the budget for books", he said.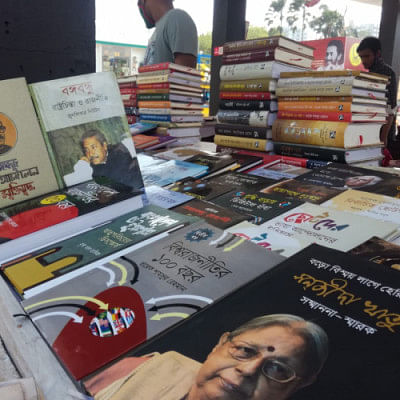 The sentiment was echoed by Md Ainul Hossain, publisher of AH Development Publishing House, who incurred costs worth seven lakh taka and with no means of recovering it, as well as Razia Rahman Jolly of the Faisal Arefin Dipon Smriti publishing house. "The government offers subsidies and incentives to various fields. We hope they will stand by us now to protect the publishing industry—we even signed a petition yesterday, on behalf of the Katabon Publishing Forum", Jolly said.
Osman Ghani, publisher of Agamee Prokashani, has stressed in an open letter that publishers suffered losses far outweighing their gains from the pandemic-riddled Boi Mela this year, that too after many of the country's biggest bookstores and publishing houses closed down in 2020 as a direct result of the coronavirus. Big names like University Press Ltd (UPL), Oitijjo Prokashok, Prothoma, Baatighar, and Pathak Shomabesh have all shared that they will suffer huge losses. Some of the smaller publishers had even taken out loans that are unlikely to be repaid given the damage dealt to finances.
"It is impossible to save the dying publishing industry without your intervention. Its fate lies entirely upon your decision making now. We hope you will come to its aid", Ghani said, addressing Prime Minister Sheikh Hasina.
"Financial institutions can also step forward to help the struggling publishers", Arifur Rahman Nayeem, publisher of Oitijjo Prokashok, suggested.
Farid Ahmed, president of the Knowledge and Creative Publishers' Association, told The Daily Star that the committee will consult the Bangla Academy and submit a proposal to the government regarding plans to compensate the publishing industry.
For more book-related content, follow Daily Star Books on Facebook, Instagram, Twitter, and LinkedIn.