A literary duet of humane attitudes
Authors: Andrew Eagle & Tulip Chowdhury (Publisher: Bengal Lights Books, Price: BDT 800)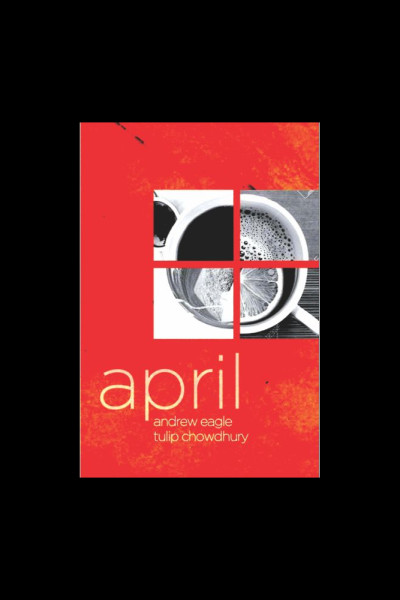 Admittedly, we live in a milieu that comprises numerous sprinkled rudiments which keep crisscrossing each other in our personal-social-cultural-political existence. But these either stay beneath our feel, thereby making us misjudge their worth, or we simply take these for granted in our daily routine. Soothingly, Andrew Eagle and Tulip Chowdhury's congruent effort in APRIL won't allow readers to succumb to any of these tendencies due to a simple truth it highlights: our survival is glorified by our attachment to the 'complex everydayness' (to put it in Syed Manzurul Islam's words) of surroundings. And, we should have a caring eye for the nitty-gritty of that everydayness. 
The sweetest surprise of this book lies beyond its words and pages. Tulip and Andrew hadn't known each other before stepping into the APRIL world. They first met in facebook, and their initial social exchanges, quickly shaping into intellectual alliance, eventually found its way toward arty fineness that whirled round the casing of a single month, April. Both of them, subsequently, had decided to make that permanent.     
Roaming around its pages, readers will discover a specific power of this book; it has allowed both writers to unearth the hidden poets inside them. Well, they hadn't tried to be poets, but APRIL has made them observe and deem things like poets. You cannot avoid the charm of Andrew's silent scream on his return to Dhaka after a two-month gap, "Welcome mayhem! The mega city lives…" and subsequently by his childlike incredulity at the sight of uncountable people, "…lives colliding like the dodgem car traffic?" Similarly, Tulip will stir your sentiment when she talks of the few moments of 'contemplation or mental digestion' after watching a movie and goes on to remind you, "…It's in that space that imagination finds license." Uncountable instances like this can be cited where Andrew and Tulip dig up the triumphs and tragedies of urbanism in serene sensitivity. 
Tulip's portrayal of cosmopolitan consumerism is touchy as she talks of her attempts to cope with the American family system where single dads and single moms have to maintain lives contradictory to our values. Andrew too pours out his emotion in narrating how a young girl Jhorna in Sirajganj could haplessly tell people that she belonged to her grandfather's house…a house that had forever lost into oblivion by Jamuna's wrath in one night.      
For both Andrew and Tulip, who had left their homes behind but carry the evocative past of their homes, the present is a bitter-sweet affair. Andrew outbursts in poetic realization, "I'm not as Bengali as they are and yet I feel it. I'm hardly Australian except that I am." Apparently, he enjoys this 'privileged duality' or 'multiplicity' and also feels very normal calling his parents 'my Australian mum and dad'. But what about the poet inside Andrew? He perhaps leaves a room for you to guess! 
And Tulip? She never forgets her comfortable home in the 1990s that was one of the 'five happiest model families'. The softness of that memory eventually transformed into the toughness of 'nearly three years of homelessness', forcing her to accept the world as a better home. But then, why would the option of 'married or single' in the American official applications make her yearn for a third option 'heartbroken'? The poet inside Tulip will compel you to rethink through her narrations. 
Yet, some readers may find a difference between the poets inside them. While Andrew as an 'outsider' has remarkably inched toward being an 'insider' by gradually discovering our people and society, Tulip's outsider-entry into the global environment of Massachusetts has made her gradually reassess her home much better than us. In this spirit, both are successful insiders who have found commonness in their homecoming. 
A striking feature of this book is the insertion of Andrew and Tulip's facebook chats between the chapters. Finding them as insightful clues for a smoother understanding of the chapters, you will discover the juvenile innocence of Andrew who keeps seriously talking to Tulip expecting her instant feedback though she's offline. You will also notice the blue-green Tulip lost in love with the vast horizon in America and lamenting the lack of trees in Dhaka. But on top of everything, those will act as never-to-be-missed chatni-and-salad for readers relishing the chapters like home-made delicacies. 
To be precise, the entire book will give you an overview of how human souls gain connectivity in their shared feelings about the life where they belong. A mere review is not likely to do any justice to this extraordinary work. APRIL is not just a book of unorthodox creativity. It is a musical jugalbandi of humane attitudes, a travelogue of shared humanity that has transformed into collective emotion of all readers. APRIL will surely whisper into your ears: 'why not take a look at the LIFE around you?' If you don't hear that whisper, probably APRIL hasn't been meant for you!

The reviewer is an academic, poet and singer. He is currently an Associate Professor of Applied Linguistics at American International University-Bangladesh.