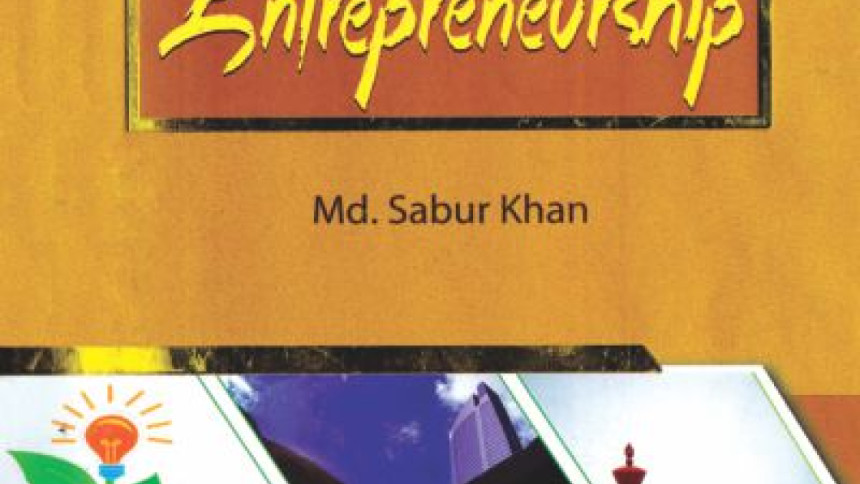 AUTHOR: MD. SABUR KHAN
REVIEWED BY DR. BINOY BARMAN
AS a nation, regrettably a bitter truth, we are not entrepreneurial. We love to seek job, being subordinate to others, rather than provide it, with upper status. But the situation needs to be changed. We have to create entrepreneurs, who will provide jobs to others, which eventually would invigorate our economic engine when we are on a course of being a middle income country. Such an urge has been made by Md. Sabur Khan, who has recently come out with the book A Journey towards Entrepreneurship published by Scholars Publications. It is an essential guide for the people who want to become entrepreneurs. The book makes an urgent call for transformation—the transformation of society and social attitude—transformation from job-seeking to job-giving culture, for economic uplift of the nation on a par with MDGs.
Being an entrepreneur holds multifarious advantages for the individual as well as society. An entrepreneur not only contributes to the personal wellbeing but also to social wellbeing, creating employments and eradicating poverty. An entrepreneur enjoys freedom of work unlike the employees in an office or factory. An entrepreneur makes decision on business affairs and leads the team from an authoritative position. He/she is like the captain of a ship. If he/she is a good captain, with a vision, high morale and morality, earning respect of the colleagues, the success in business is inevitable.
The book outlines clearly how to become a successful entrepreneur. It delineates the leadership qualities, history of entrepreneurship, business strategies and rules, and combating business problems. It explains, with sufficient elucidation, value and brand, business plan and operation, marketing and customer dealing, networking and communication. The writer distinguishes between 'entrepreneurship' and 'intrapreneurship', vis-a-vis external and internal matrix. An 'entrepreneur' is someone who invests and runs his/her own business making policy decisions; an 'intrepreneur' is an executive within an organization who performs like an entrepreneur with plans and actions to develop innovative products, services or experiences. The joint forces of 'entrepreneur' and 'intrepreneur' would elevate an enterprise to the pinnacle of success.
The book provides many a practical advice for the entrepreneurs in the making. Chapter three is entirely dedicated to the procedure of becoming a successful entrepreneur. There are 23 tips starting from 'Plan before action' and ending with 'Maintaining awareness'. Any business needs capital for initiation and its proper utilization for subsequent growth. Chapter six elaborates on the business plan and budgeting, crucial for any business. The elaboration includes, among other things, application for IPR (Intellectual Property Rights), source of financing, necessary legal documents, trade license, business registration, credit application, etc.
The book pays particular attention to the startups, the new initiatives of business. A favorable environment supported by the national policy is necessary for startups to flourish and sustain. Chapter seven exclusively touches on the startup-related affairs. It suggests how startups can attract venture capital and utilize it for laying foundation and expansion of business. There are many models available for the startups to follow. Of special importance is the Blue Ocean Model. It entails a market strategy which focuses on terminating competition by creating new uncontested market space and by capturing new demand. For this, one has to conduct market research, find out the new demand, innovate a suitable idea and turn the idea into a product. But in reality, it is very difficult to start a new business and succeed as there are a lot of risks involved. Often an entrant into business has to start just from scratch. He/she may feel frustrated looking around the complexity of business operations. Can he/she make it at last? He/she needs inspiration. And the best inspiration comes from the dictum: "Every count starts with zero."
One of the spectacular features of the book is that it recounts the magnificent stories of some successful businessmen in Bangladesh to inspire the new entrepreneurs. The list includes such big shots as Latifur Rahman, Chairman of Transcom Group, M. Anis Ud Dowla, Chairman of ACI Group, Syed Manzur Elahi, Chairman of Apex Group, Sufi Mohamed Mizanur Rahman, Chairman of PHP Group, Abdul Matlub Ahmad, Chairman of Nitol-Niloy Group, Aabul Kalam Azad, Chairman of Ha-Meem Group, Alhaj Md. Mozibar Rahman, Chairman of BRB Group, Alhaj Anwar Hossain, Chairman of Anwar Group of Industries, Rokia Afzal Rahman, President of Bangladesh Federation of Women Entrepreneurs, Abul Kalam Azad, Proprietor of Azad Products, and Niaz Rahim, Director of Rahimafrooz Limited. Their success stories show how with determination and proper strategies one can go forward to fulfill the dream in life.
The book, board-bound and illustrated, provides all the information and knowledge required for a would-be entrepreneur. Sabur Khan himself is a successful entrepreneur. He is the Chairman of Daffodil Group that includes about twenty concerns including Daffodil International University. He was the President of Dhaka Chamber of Commerce and Industry (DCCI) and the President of Bangladesh Computer Samity (BCS) and currently he is the Director of World Information Technology and Services Alliance (WITSA) and Chairman of Global Trade Committee of WITSA. A Journey towards Entrepreneurship has been written in the light of his own experience as a businessman.  It is a wonderful gift out of his business wisdom for the graduates who aspire to be entrepreneurs. The book will show them the way.
The reviewer is Director, Daffodil Institute of Languages (DIL), and Associate Professor, Department of English, Daffodil International University.