7 detained earlier under DSA and ICT Act demand abolition, amendment of acts
Call for judicial probe into alleged torture of cartoonist Kishore, writer Mushtaq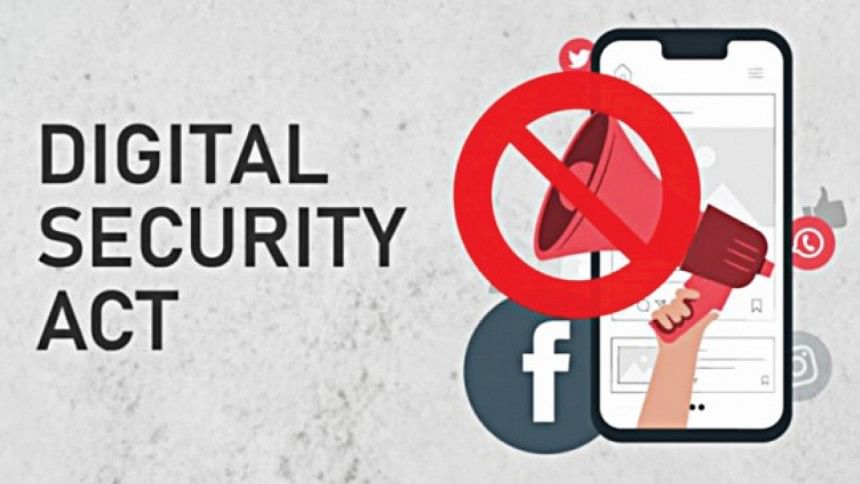 Seven citizens who had earlier been detained under the Digital Security Act and ICT Act today demanded a judicial probe into the alleged torture of writer Mushtaq Ahmed and cartoonist Ahmed Kabir Kishore in custody and the trial of responsible law enforcement members.
The group of teachers, journalists and activists also demanded abolition of the controversial law and amendment of the ICT Act with human rights-centric principles.
In a statement, they said: "We are deeply concerned about the recent death of writer Mushtaq Ahmed in prison and fear for all inmates. At the same time, we have also learned Kishore had complained that he had been tortured in custody of the law enforcement agencies after his arrest on the night of May 2 last year.
"Even writer Mushtaq Ahmed has been given an electric shock. According to the Torture and Custodial Death Prevention Act 2013, this is a serious crime and a violation of the directions of the High Court. It is the responsibility of the state to protect the human rights of every prisoner, but civilians are dying in the custody of state forces and are being subjected to brutal physical and mental torture," said the statement signed by seven citizens.
The signatories are noted photojournalists Shahidul Alam, Shafiqul Islam Kajol, Chattogram University teacher Maidul Islam, Rashtrochinta activist Didarul Bhuiyan, Architect Golam Mahfuz Joardar, leftist student's leaders Maruf Hossain and Aziur Rahman Ashaf. All were earlier detained under the DSA or ICT Act.
They also said a state's laws are designed to protect the human rights of its citizens, but the DSA act is being used as a death trap or a weapon of torture instead of protecting citizens.
"While murderers, money launderers have been granted bail in the legal process, the culture of not getting bail in the legal process required for those arrested under the Digital Security Act has begun. When this happens, it is no longer considered a fair law, it becomes an anti-people law.
"In today's Bangladesh, the Digital Security Act is one such repressive law which deprives the people of their innate freedom and rights. From university students, teachers to artists, photographers, journalists and even 14-year-old schoolchildren have been and are being victimised by this law," read the statement.
"The torture of cartoonist Kishore and writer Mushtaq should be investigated and the responsible members of the law enforcement agencies tried. There should be a proper and independent judicial enquiry into the torture and death of Mushtaq Ahmed in custody and the investigation report should be made public," the statement added.