Aus hails the Pune win no one saw coming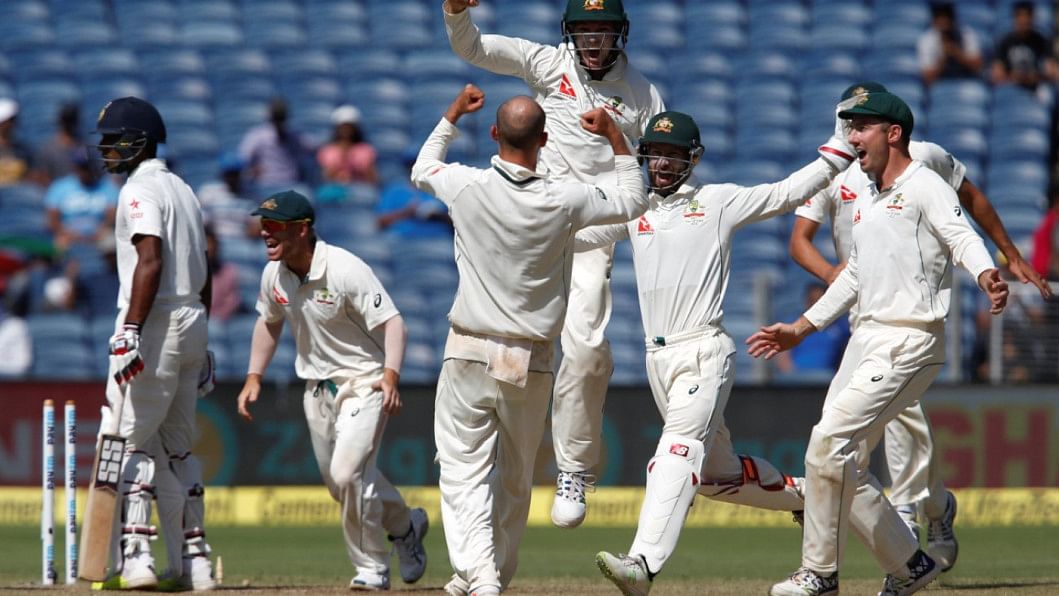 Australia hailed the extraordinary victory by their cricketers in the first Test against India in Pune on Sunday, the plaudits just about drowning out the expressions of stunned surprise at a triumph almost no one expected.
The men in baggy green caps took just two-and-a-half days to secure a first Test triumph in India since 2004, a run of 11 matches, and doling out a thumping to a side that had gone 20 Tests without tasting defeat on home soil.
"A billion plus people didn't see this coming. A good 20 million plus Australians were of the same mind," Peter Lalor wrote from India on The Australian newspaper's website.
"Nobody outside the camp gave Steve Smith's men a chance, but they romped it in. Towelled up the home side by 333 runs inside three days."
The best part of the win, Lalor wrote, was that they beat the Indians at their own game - devilish spin bowling on a dusty, dry sub-continent wicket.
And if Australia's victory was unexpected, the catalyst of the Pune massacre was the wholly unlikely figure of Steve O'Keefe - a left-arm finger spinner written off as a "safe" option before the Test by an unimpressed Shane Warne.
"Steve O'Keefe has shattered 84 years of Test history in the sub-continent to pilot Australia to one of its most famous victories," trumpeted Ben Horne in Sydney's Sunday Telegraph.
"Not so long ago O'Keefe thought his Test career was over, but the 33-year-old's extraordinary match haul of 12-70 now stands alone as the best individual figures by an overseas spinner ever in the sub-continent since the first match India played way back in 1933."
Unsurprisingly, talk in the media quickly turned to where the victory ranked in the history of Australian Test wins, with the Sun-Herald's Andrew Wu putting it with the greaTest.
"This has come in alien conditions against the world number one, who were given a lesson in how to play in their own dust bowl," he wrote.
"Perhaps the series-clinching victory in Nagpur in 2004 - Australia's last win in India - is the clubhouse leader, which places Smith's young side in rarefied air alongside one of the greaTest teams this country has produced."
Although O'Keefe was named Man of the Match for his six-wicket hauls in both innings, there was plenty of praise too for captain Smith, who hit the only century of the match on a wicket that drew criticism from all sides.
"Credit was spread throughout this Australian side, but each individual owed something to Smith, and his 109 was an expression of cumulative purpose as much as an individual feat," wrote Gideon Haigh in The Australian.
"Third-innings hundreds can be casual canters: this was a monument of self-control ... His first break here was luck: winning the toss.
"All the rest have been pluck, preparation, perseverance and finely-honed skill."