'It's not easy to replace Mashrafe'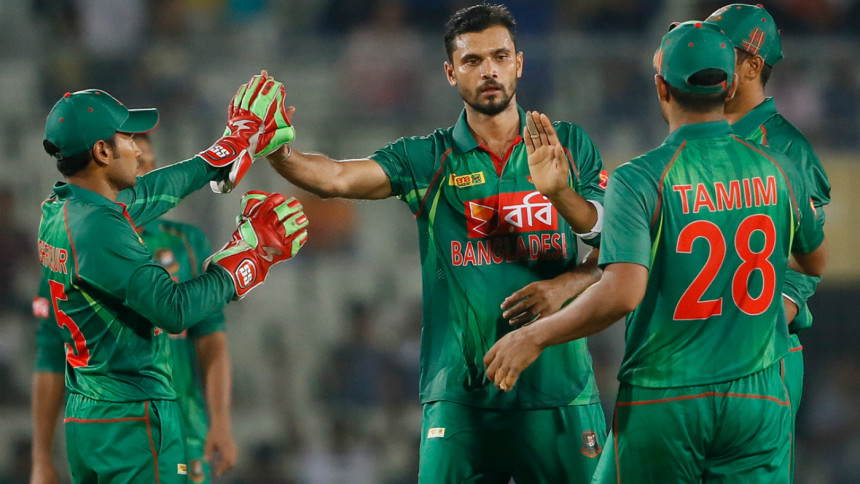 Once Mashrafe Bin Mortaza announced at the toss of the first T20I that the series against Sri Lanka would be his last in the shortest format of the game, certain questions arose.
Was it the right decision at the right time? Did he take the decision willingly?  Was he making the sacrifice to prolong his one-day career?
"It was expected, but I was bit surprised with the timing of the announcement. He is the captain of the team and he has two matches in hand; the focus should absolutely have been on the series. He could make the announcement after the finish of the second match. It seemed an emotional decision rather than a mature one, but I don't know whether there was any reason for him to announce it in hurry," said former Bangladesh skipper Gazi Ashraf Hossain.
"I would not say the time has not come for him because he was under pressure with his pace and you know in this format a player needs more than a hundred per cent fitness. It was not a perfect farewell for a player like Mashrafe who has an immense contribution to our cricket. I was a bit surprised when the team management picked up four pacers, bringing in Saifuddin," he added.
For former national skipper turned selector Habibul Bashar it was sad news.
"I must say it's sad news because it's not so easy to replace a cricketer, a leader like Mashrafe. There was no question about his performance and he always gave his hundred per cent. Definitely the team will miss his service. There is a saying that it's always good to take the decision yourself before people ask for you to take the decision and Mashrafe might be thinking along those lines."
Chief selector Minhajul Abedin however considered it the right decision.
"It's his personal decision but I must say he took the right decision. As a former player I know it is always good to call it a day when you are in good form. As a legend of our cricket I think he took the right decision at the right time. The team will definitely miss him because you cannot compare him with anybody."
Another former captain, Mohammad Ashraful, also believed that his former teammate took the right decision at the right time, and he also believed that it would help Mashrafe prolong his ODI career.
"It is the right decision. What I know is that Mashrafe was also not enjoying T20 cricket. We must understand that under his captaincy Bangladesh started to learn the craft of T20 cricket. The main problem is T20 cricket demands more than a hundred per cent fitness but we all know the great struggle of Mashrafe with his fitness," opined Ashraful.
"One thing we must ensure is that Mashrafe will lead the team in the 2019 World Cup in England. I personally believe his decision of quitting T20 cricket will help him prolong his ODI career, and Bangladesh cricket needs his service in ODI cricket for as long as possible," he added.