New VAT law will push up living cost
Analysts warn at ICAB-The Daily Star roundtable on FY19-20 budget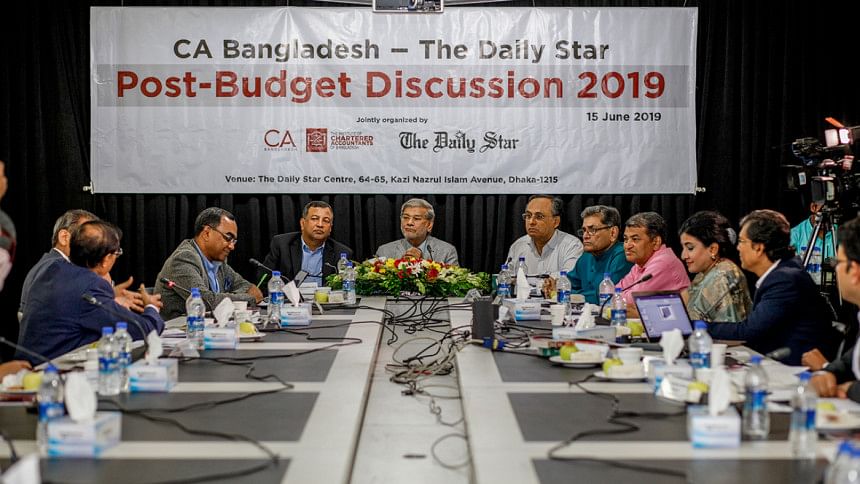 The new VAT law may increase cost of many goods and services and hurt consumers, analysts said yesterday.
Introduction of so many rates go against the fundamentals of the law. Since there are no rebate facilities for products and services that have less than 15 percent VAT, cost could increase by 38 percent for some products, they said.
The observations came after the government unveiled the budget for fiscal year 2019-20 along with the decision to start implementing the much talked-about VAT and Supplementary Duty Act 2012. It plans to introduce four main rates, moving away from the original uniform 15 percent rate.
The Daily Star and the Institute of Chartered Accountants of Bangladesh (ICAB) jointly organised a discussion at The Daily Star Centre yesterday to analyse the proposals in the budget.
Planning Minister MA Mannan was the chief guest of the event where businessmen, economists, and professionals also spoke.
Under the new system, the rates of VAT would be 5 percent, 7.5 percent, 10 percent, and 15 percent. But businesses would enjoy VAT rebate facilities only if they pay 15 percent VAT.
The government also declared four other special VAT rates for products and services, including medicines, petroleum products, and flat registrations, and slapped specific tax on certain products, including iron rods and bricks, according to Finance Bill 2019 disclosed on Thursday.
"It is a complete disaster," said Ahsan H Mansur, executive director of Policy Research Institute (PRI) of Bangladesh, on the new VAT law.
"It [the new VAT law] should be labelled as VAT and Excise Duty Act 2019 because it is a combination of VAT and excise duty," he said.
Mansur said if a business was not eligible for paying 15 percent VAT, it would have to endure tax on tax.
"We have been really abused by the introduction of the new VAT law. We were better off with the 1991 law," he said.
"You have traded off VAT for excise. There is no VAT left. Just pure and simple cascading excise system," said Mansur, adding the introduction of the system would hurt development of small and medium enterprises.
Nazneen Ahmed, senior research fellow of Bangladesh Institute of Development Studies, agreed with Mansur on the VAT law. She said it would distort the whole system and hurt the business community.
ICAB President AF Nesaruddin said multi-level VAT rates was in fact a continuation of the existing system.
"Since automation is key to this VAT law, steps should be taken immediately for its smooth implementation," he said, suggesting that the government review the impact of not allowing input tax credit on products and services that have less than 15 percent VAT.
Snehasish Barua, who presented a paper on the fiscal measures in the budget, suggested allowing proportional rebate for businesses that would pay less than 15 percent VAT.
"Very high penalty has been proposed for non-compliance of VAT rules. It should be reduced," he said.
Planning Minister MA Mannan said he was always in favour of single rate VAT. He said huge reforms were necessary in the revenue board but the job was not as easy as it was said to be.
"There are vested interest groups who always resist reforms in the NBR," he said.
Analysts also cautioned that the government's ambition to achieve revenue target would not be attained given the capacity of the revenue collectors.
The government's increased dependency on bank borrowing to finance deficit would increase stress on the ailing banking sector, which suffers from liquidity crunch due to soaring default loans, falling deposits, and recent surge in government borrowing.
As a result, private sector might face difficulty in getting funds for investment, said the analysts.
Citing the liquidity crisis in banks, Association of Bankers, Bangladesh Chairman Syed Mahbubur Rahman said increased bank borrowing would put further pressure on the sector.
Abul Kasem Khan, former president of Dhaka Chamber of Commerce and Industry, demanded visible and exemplary punishment for willful defaulters.
Rakibur Rahman, former president of Dhaka Stock Exchange, said the government's proposed measures for capital market would be beneficial for small investors.