A little for the jobless
Education's share still too small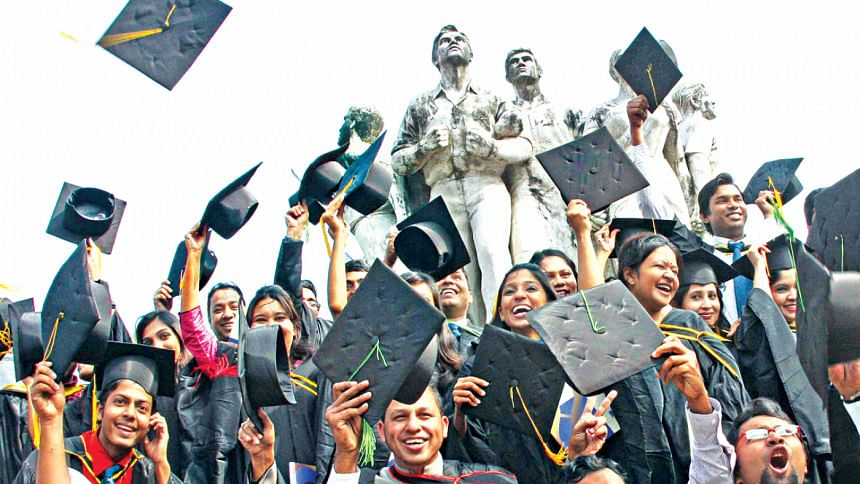 More than a year ago, when Mohammad Zayed graduated from a university college in the capital, his family started expecting that he would soon take over the financial responsibility.
Eldest among three siblings, he understood it because his father's income from a job at a pharmacy, near Mohammadpur Beribadh, is too meagre to meet the family's rising expenses.
Zayed started looking for a job. He took several recruitment tests. In some cases, he made it through to the viva voce exam. But that was it. He is still unemployed.
"It's disheartening. I need a job soon to support my family," said the 23-year-old.
Zayed is among the thousands of graduates who are struggling most to find employment. Yesterday's budget brings good news for unemployed youths like him.
Finance Minister AHM Mustafa Kamal proposed to allocate Tk 100 crore for the training and employment of a specific group of people because "the government strives to eliminate unemployment by 2030 by generating three crore jobs."
However, there is no specific guideline in the budget speech on how the money would be spent.
Experts and employers welcomed the proposal, but laid stress on proper spending of the fund.
"We hope the government will increase such allocations in future," said Anwar-ul Alam Chowdhury, president of Bangladesh Chamber of Industries (BCI). Every year the budgetary allocation for the education sector is increasing, but it is inadequate to produce skilled manpower in a world where artificial intelligence is poised to redefine the job market.
As the finance minister yesterday proposed to raise the allocation by 17 percent to Tk 61,118 crore for education for the next fiscal year, its share in the GDP (gross domestic product) still stands at 2.1 percent. The amount makes up 11.68 percent of the total outlay.
Bangladesh has committed in the Dakar Declaration and other global forums to spend 6 percent of GDP or allocate at least 20 percent of the national budget for education. Unesco also stipulates a similar budgetary allocation for education.
Educationists say the government expenditure on education as a proportion of GDP has been hovering around 2 percent for the last several years, which is lower than in many other South Asian countries such as Vietnam and Nepal.
In fact, the education sector's share in the budget is falling for the last few years. In the revised budget of the 2010-11 fiscal year, for example, the figure was 14.3 percent.
The bulk share of the budget goes to salaries and operational expenditure, leaving little scope for ensuring a quality budget.
CAN WE SEIZE THE DEMOGRAPHIC DIVIDEND?
"It is not an adequate investment in human resource development," said noted educationist Rasheda K Choudhury.
"We may miss the bus if we don't invest enough in human resource development. It is necessary if we want to seize the demographic dividend."
Demographic dividend is the economic growth potential that can result from shifts in a population's age structure, mainly when the share of the working age population (15 to 64) is larger than the non-working age share of the population (14 and younger, and 65 and older).
About 65 percent of Bangladesh's population is between the age of 15 and 64 now.
Apart from university graduates, 20 lakh young people enter the job market every year, and they too do not fare any better -- a worrying development for a country which is blessed at the moment with a sizeable young population.
The rate of unemployment among persons with education of up to tertiary level rose to 11.2 percent in fiscal 2016-17 from nine percent a year earlier, according to the latest Labour Force Survey by the Bangladesh Bureau of Statistics (BBS).
The unemployment rate has gone up at a time when higher numbers of graduates are coming out of universities, and the economy is registering steady growth.
Some 6 lakh students graduated from public and private universities in 2017.
Experts blame the absence of quality education and a skilled workforce as the main causes for not finding the right people for the job. The also blame hiring from abroad.
Employers look for people with complex and adaptive thinking abilities who can cope with a multifaceted, volatile, and unpredictable job environment. But most graduates suffer from inhibitions when it comes to communicating, they said.
Mohammed Abu Eusuf, director of the Centre on Budget and Policy at Dhaka University, said, "Our education system is producing jobless graduates.
But we need an education system linked with markets. If we want to achieve this target, we must spend more on education."
Echoing him, former BGMEA president Anwar-ul Alam Chowdhury said, "The key problem is skills mismatch. We often find that many of the jobseekers cannot draft a simple letter. Even they don't have enough knowledge on the subject in which they majored."
Anwarul suggested creation of a separate human resource ministry, which will conduct research and find out the skills the market demands.
This ministry will make recommendations, and the education ministry will prepare curriculum along that line, he said.