Budget Discussion: Opposition slams govt over paddy price
Also decries 'failure' to check money laundering, loan defaults, black money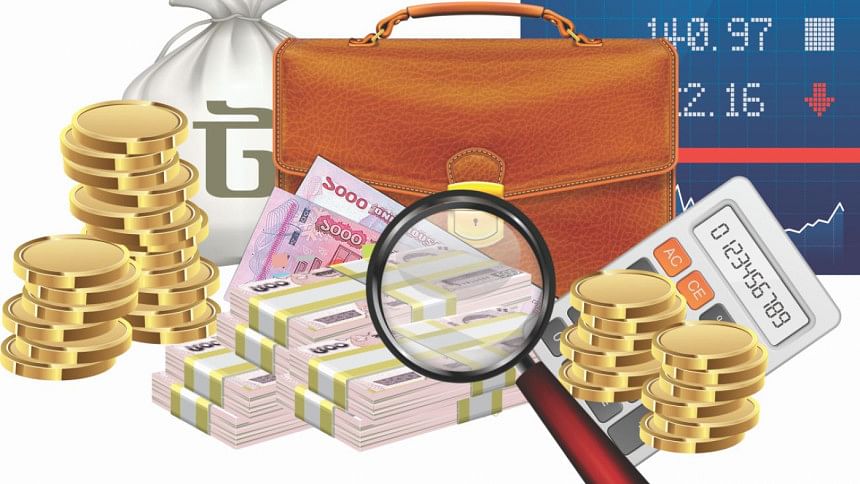 Opposition lawmakers yesterday came down heavily on the government for its failure to ensure fair price of paddy and check money laundering, soaring loan defaults and black money.
The BNP, Jatiya Party and Gonoforum lawmakers, while taking part in discussions on the supplementary budget for 2018-19 in parliament, also criticised the government for their failure to implement the budget and ensure good governance.
Ruling lawmakers, however, praised the development activities of the government, saying Bangladesh was in a very good economic position and on the right track to becoming a middle-income country.
Treasury bench members also censured those who criticised the budget by saying it was "ambitious" and had "impossible revenue collection target", among other remarks.
BNP lawmaker Harunur Rashid said farmers were not getting a fair price for their paddy. He said the government was importing rice, despite high domestic production.
"How much rice have you imported in the last 10 years… we are not self-sufficient in producing food," he added.
Harunur also said the EC had wasted money as they failed to hold a free, fair and credible election.
He urged the prime minister to remain alert against people who unnecessarily praise her.
"Neither the lower court nor the high court is independent. I will urge the prime minister to take necessary steps to restore good governance," he said.
The view was similar to that expressed by JP lawmaker Pir Fazlur Rahman, who also demanded good governance, saying it would check the "waste of budgetary allocation and corruption in various sectors."
On good governance, Fakhrul Imam, another JP lawmaker, said state-owned institutions had incurred a loss of over Tk 4,300 crore in the 2018-19 financial year.
If good governance was ensured, the losses could have been controlled, he added.
Fakhrul said the government had implemented 78 percent of the outgoing budget, adding that budget implementations had been decreasing since the 2012-13 financial year.
"Banks are facing a crisis of money. Loan defaults now stand at Tk 1.10 lakh crore and if we take written off loan into consideration, then it soars to Tk 1.55 lakh crore," he added.
Touching upon the agriculture sector, the JP lawmaker said it was neglected and farmers were not getting good prices, a situation that middlemen were exploiting.
"If you do not give farmers an incentive, they will lose interest [in cultivating crops]."
He proposed giving direct cash incentive to the farmers.
Fakhrul also said that most of the people running the economy from the government side were businessmen, citing the examples of the finance minister, commerce minister, jute and textile minister, food minister and state minister for power.
This period belonged to undisclosed money holders and looters of banks, said Gonoforum MP Mukabbir Khan. He said that through this budget, the rich would get richer and the poor would get poorer.
He urged the PM to take steps to redistribute black money among the poor people of the country.
BNP lawmaker Rumeen Farhana alleged that Bangladeshi money was being siphoned off to different countries. This money is being invested in the Second Home project in Malaysia and was used to build Begumpara in Canada, she said.
She also said enforced disappearances, violence against women and rape were rampant in the country.
Meanwhile, ruling Awami League lawmaker Matia Chowdhury praised the government efforts for turning the country into a middle-income country.
She also censured the people who are criticising the budget, saying such people did not see the progress and development activities of the country or the slowing down of maternal and newborn death rate, and increase in life expectancy.
They also do not see that Bangladesh has turned self-sufficient in food production, she said.
Matia said Bangladesh had developed so much that it was hard to find day labourers for harvesting crops.
"We have saved jute sector from death," she added.
She also criticised BNP MPs for terming the parliament unacceptable, despite joining it and taking all the facilities as a lawmaker.
Matia also disagreed with the those calling the budget "highly ambitious".
Agriculture Minister Dr Abdur Razzaque said the claim that the budget was too ambitious was not true.
On prices received by farmers, he said they would get a fair price for their hard work, adding that the government would allocate Tk 3,000 crore for buying machineries for harvesting.  
Ruling party lawmakers Faruk Khan and Abdus Shahid also praised the governments development works and termed the budget people-friendly.
Abdus Shahid also proposed a law banning criticism of Father of the Nation Sheikh Mujibur Rahman.
On June 13, Finance Minister AHM Mustafa Kamal placed a supplementary budget of Taka 4,42,541 crore for the 2018-19 financial year.