Govt to promote youth-led innovations addressing climate emergency: Momen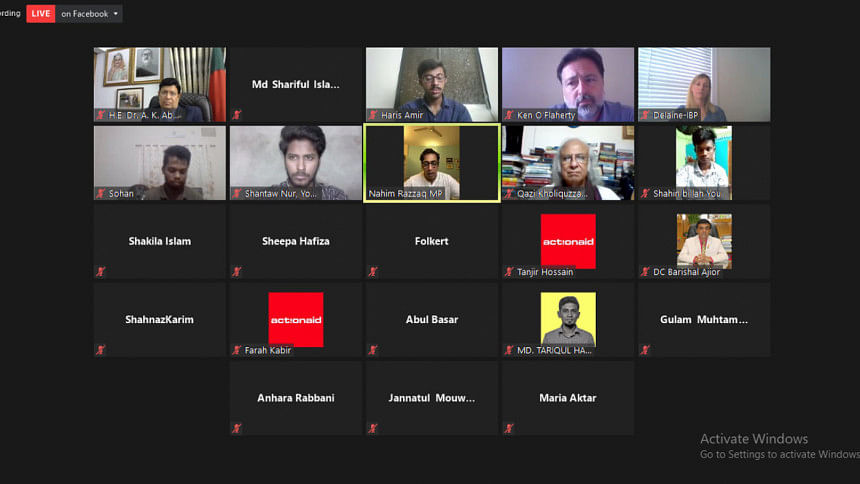 Foreign Minister AK Abdul Momen has said that the government will promote youth-led innovations and solutions to build greater resilience combating climate emergency.
"We want to see young people in the global fight to achieve climate justice for Bangladesh," the minister said yesterday while addressing as chief guest the launching ceremony of Coastal Youth Action Hub.
The minister said, "We will include young people in our delegation in the Next COP and will take special action under our CVF presidency. Bangladesh Parliament has adopted a first ever motion on planetary emergency to protect future of our next generation."
Nahim Razzaq, lawmaker from Shariatpur-3 and the Convener of Climate Parliament Bangladesh, also joined the programme organised by ActionAid Bangladesh and YouthNet in partnership with Bangladesh Model Youth Parliament, British Council, BINDU and BEDS, as special guest.
In his remarks, Razzaq said that recent flood has created huge displacement in his constituency.
"We all know about the impact of climate change in Bangladesh and globally, and it is us who needs to take climate action now," Razzaq noted.
He congratulated the young people for committing to lead coastal resilience in Bangladesh and urged to bring behavioural changes to protect our ecosystem.
Ken O'Flaherty, the COP26 Regional Ambassador for Asia/ Pacific and South Asia, also joined the webinar as a special guest and noted, "It is very clear to us that the climate change is the biggest threat to our planet and it will be the young people who will be the most affected group."
"We have to be very careful and practical in our planning and implementation of climate action," said Dr Qazi Kholiquzzaman Ahmed, Chairman of PKSF, who led and contributed to a number of policies in Bangladesh on climate change.
"The British Council intends to explore youth voices and choices in the realm of climate change to understand youth attitude and aspirations, amplify youth voice and support better youth policy making and we will be engaging youth networks in doing the exercise," said Dr Shahnaz Karim, Director - Inclusive Communities, British Council.
Barishal Deputy Commissioner SM Ajior Rahman; First Secretary to the Embassy of the Kingdom of The Netherlands, Folkert de Jager; equality and rights activist Sheepa Hafiza; Coordinator of YouthNet for Climate Justice Shakila Islam; and Chief Executive of Bangladesh Model Youth Parliament  Sohanur Rahman also joined the webinar.