'Police seize yaba, become dealers'
Three probe bodies formed as a complaint says detectives in Cox's Bazar seized 7.30 lakh pills in Sept last year, sold most of them for Tk 8cr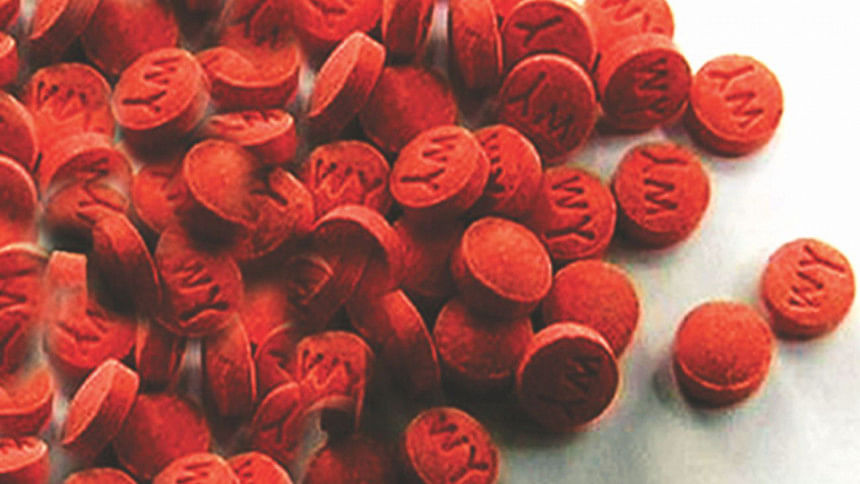 Detectives in Cox's Bazar sold off 7.22 lakh yaba pills they had seized for Tk 8 crore, according to a complaint filed by a sub-inspector.
Two police probe bodies are investigating the matter and the police headquarters recently gave the nod for a third enquiry.
However, officials concerned are very tight lipped about the matter.   
SI Bashir Uddin of Feni Model Police Station filed the complaint with the IGP's complaint cell and Cox's Bazar Police Superintendent on December 27 last year.
In his complaint, Bashir said a team of the Detective Branch of Cox's Bazar seized 7.30 lakh yaba pills at Teknaf on September 27. But the team showed seizure of only 8,000 pieces in a case filed with Teknaf Police Station the next day.
Bashir was a member of Cox's Bazar DB then.
The rest 7.22 lakh pills were sold off in phases in Ukhia which made Tk 8 crore, Bashir, who is now posted at Noakhali Police Training Centre, told The Daily Star.
He alleged that former officer-in-charge Monirul Islam of Detective Branch of Cox's Bazar, and SI Kamal Hossain were involved in the "offence".
"They are now after me and I fear for my family," he added.
Bashir in his complaint alleged that SI Masud Rana of Cox's Bazar DB met him when he was in Feni Model Police Station on November 8 last year.
"Sitting in a room at the police station, SI Masud called OC sir [Monirul] and asked me to talk to him … He [Monirul] hurled abuse at me and threatened me that he would destroy my family, if I disclosed anything."
Bashir claimed that Monirul over the phone told him that they had gotten Tk 8 crore selling the pills and that he would spend Tk 1 crore for ruining Bashir's family.
Two days later, Masud called Bashir and told him that Monirul sent him to talk to him, Bashir claimed.
When Bashir declined, Masud told him that he had come a long way to meet him and that he would leave after having a meal with him, Bashir mentioned in the complaint. 
They met in Bashir's Banasree home in the capital where Masud offered Tk 1 lakh for Bashir's silence, which led to an altercation. Their heated exchanges continued to the ground floor.
Seeing the altercation, a patrolling team of Rampura Police Station took them to the police station.
Officer-in-Charge Proloy Kumar Saha of Rampura Police Station submitted a report before the deputy commissioner of Motijheel on November 17 last year where he said, "The unexpected incident took place between the two sub-inspectors centring the share of money of a transaction incident of DB Cox's Bazar."
Monirul and Masud could not be reached for comments.
Monirul is now in-charge of the Cox's Bazar Beach Police outpost. His mobile was switched off.
An official of the district police yesterday said all members of Cox's Bazar Detective Branch were transferred after other law enforcers came to know about the incident.
Chittagong Range police and Cox's Bazar district police have separate bodies investigating the matter. The police headquarters recently approved a central body to probe the scandal, police sources said.
Rezaul Haq, additional DIG of Discipline and Professional Standard wing of the PHQ, told The Daily Star that initiative was taken to investigate the complaint.
Without giving much details, Rokon Uddin, additional deputy inspector general (Admin) of Chittagong Range Police, said, "We have received the complaint and investigation is going on. Steps will be taken as per the probe findings."
Iqbal Hossain, superintendent of police of Cox's Bazar, said a probe body led by district additional SP was investigating. "We are yet to be in a position to disclose anything," he added.
On October 26 last year, a Cox's Bazar court sent seven members of the district DB police to jail in connection with a case filed for kidnapping a businessman and taking Tk 17 lakh ransom.