World's 4th 'Tree Man' a Bangladeshi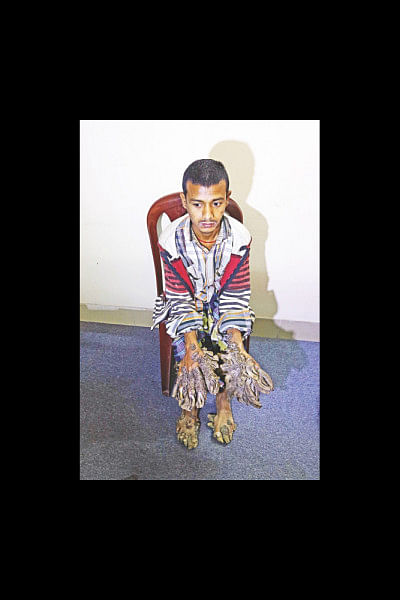 A slight young man, with a dirty piece of pink cloth covering his hands resting on his lap, sat outside Dr Samanta Lal Sen's office at the Burn & Plastic Surgery Unit of Dhaka Medical College Hospital (DMCH). He looked normal until his mother Amena Begum removed the cloth and he brought his feet out from beneath the chair.
It looked like he had two heavy tree trunks weighing around four kilogrammes glued to his hands with roots and branches sprouting out in all directions. Similar scaly brown outgrowths covered his feet, especially the big toes.
Abul Bajandar, 26, is the fourth man in the world with the tree man illness, a rare skin disorder caused by a virus named human papillomaviruses.
According to information found in the Internet, a Romanian man was first diagnosed with the disease in March 2007. Another case was reported in Indonesia in November the same year in a 35-year-old fisherman. The last reported case also occurred in the same region of Indonesia in 2009.
"I have seen this case for the first time in Bangladesh," said Dr Sen, noted physician and coordinator of the Burn & Plastic Surgery Unit. "It was referred to us by doctors of Gazi Medical College in Khulna."
"The warts began to appear on my leg when I was 15," said Abul, who hailed from Saral bus stand in Payikgachha, Khulna, "At first they were small, but over the last five or six years they began to grow at an accelerated rate."
Abul, who married in 2011 and fathered a three-year-old daughter, soon lost all functions of his hand and had to give up his job as a van driver.
"I need assistance for all my daily tasks from eating to using the toilet," he said. His mother and wife now take care of him every day. "The heavy weight almost tears down my arms and the pain increases when I move my limbs."
Initially, Abul went to village homeopath doctors. But when the treatment failed he was referred to Khulna. "We even took him to Kolkata five times in the last five years," said his sister Aduri Begum who came with him to Dhaka on Friday night.
"The last time we went to India, doctors said we have to do surgery and referred us to Vellore in Madras. But we could not afford the treatment there which would take about Tk 5 lakh," said Abul.
He and his family have already spent about Tk 2 lakh in search for a cure for this disorder. "People helped us a lot by lending money," said Amena Begum.
She lamented how difficult it was for her husband Manik Bajandar, a van driver and a daily labourer, to provide for the six-member family that includes Abul's younger sister, and his wife and daughter.
When all hopes for a possible medical treatment looked bleak, Abul's wife Halima came across a private television channel crew during the last municipality elections. "She suggested that we ask the channel people for help," said Amena.
Sunil Das, the bureau chief of SATV, was in the area to cover the polls when Abul approached him for help. "At first I thought he was asking for money. But when he showed me his hands I realised I had never seen anything like that before," he said.
Since then Das contacted friends and doctors at home and abroad, trying to find a cure and finally he was referred to the DMCH Burn Unit.
With money raised from a couple of journalists, a doctor and an expatriate worker, Das sent Abul, his mother and sister to Dhaka Medical College on Friday afternoon.
"We may not be able to provide him with an absolute cure, but perhaps we can at least try to make his hands functional," said Dr Sen, after he, his team and another plastic surgeon from Chittagong examined Abul on Saturday morning.
He said he would contact other plastic surgeons of the country and set a five-member medical board on Sunday to decide about the investigation, diagnosis and treatment of Abul's medical case, which would be completely free of cost.
"Since he still can move his fingers, we might remove the extra flesh and skin and free the index and the thumb finger through plastic surgery to return some functionality to his hand," he observed.
However, the doctors could not immediately say what had caused this condition.
"The virus could have entered the body from some injury," said Dr Md Ayub Ali, associate professor, plastic surgery, Chittagong Medical College and Hospital. "This is not usually contagious, but if the condition persists for a long time, say 30 years, then these can transform into malignant cells leading towards cancer," he added.
According to the Dermnet, New Zealand, known as epidermodysplasia verruciformis [also called Lewandowsky-Lutz dysplasia] is an autosomal recessive inherited disorder, which means that two abnormal EV genes, one from each parent, are needed to have the disease.
According to Amena Begum, no-one in Abul's maternal or paternal family had ever such conditions.
Till date no cure has been found. The Indonesian fisherman whose case received worldwide attention, had gained some mobility through surgery, but the warts began to reappear afterwards.