DMCH struggles with surge of burn patients
People get burnt while grouping around fire to keep warm in bitter cold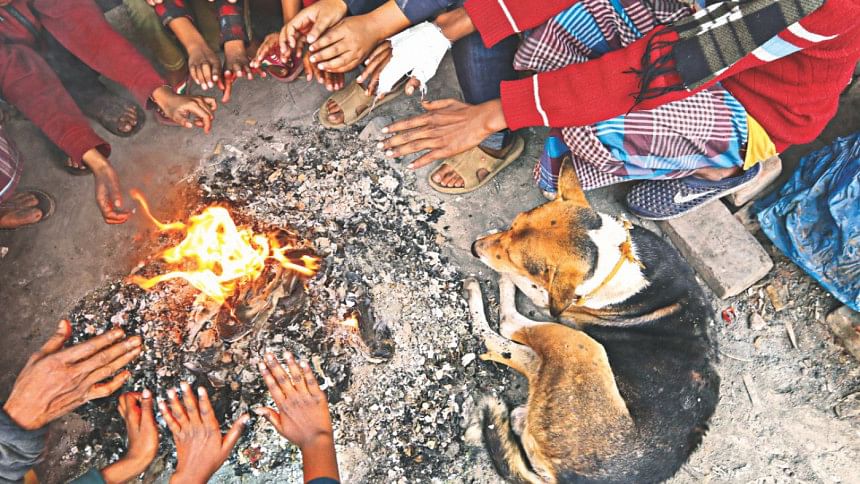 While the country shivers in bitter cold, the burn unit of Dhaka Medical College Hospital is witnessing a surge of burn patients.
The cause of the burns lead back to the cold weather. People are seeking warmth in fire or boiling water, doctors said.
With the capacity of 300 patients, the burn unit is now struggling to accommodate the burn patients.
"We have been dealing with more than 500 patients over the last few days, which is putting enormous pressure on us. Even though the supply of free medicine has been increased, it is still difficult to cope with such a large number of patients," said Abu Faisal Md Ariful Islam Nobin, a resident surgeon of the unit.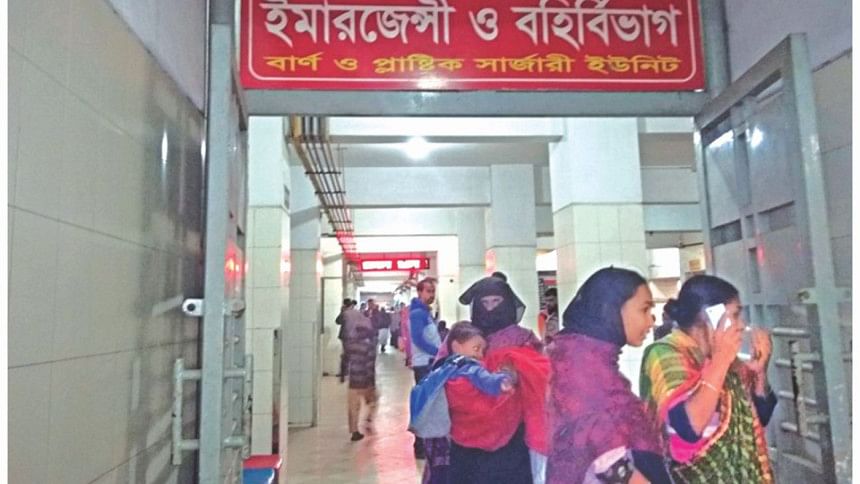 Hospital staffers said they usually treat 30-40 patients a day, which increases to around 60-70 during winter. But this year, they are getting above 100 patients a day, with 116 patients coming in just last Saturday.
Due to pressure of patients, Dr Samanta Lal Sen, chief coordinator of all Burn Units in Bangladesh, said they were forced to reduce the number of patients by sending back those with minor injuries.
He added that most of the patients were women and elderly people, who are more vulnerable to the cold.
Syed Rezaul Karim, 75, from Sirajganj, had burn injuries on both his legs.
"I was trying to keep myself and my son warm with a fire, when suddenly it caught on my lungi. We were able to extinguish the fire, but both my legs were burned by then," he said. He was rushed to a local hospital and later transferred to DMCH.
But, he was not admitted as his injuries were not critical.
Visiting the unit yesterday, this correspondent found a large number of patients and their attendants in the emergency room of the Burn and Plastic Surgery Unit. Doctors and nurses were seen busy treating patients. Most patients left the hospital after primary treatment.
One of the patients at the unit, Hafiza Begum, 65, of Tangail was fighting for her life with 30 percent burns.
"My mother's sari caught fire when she was trying to warm herself near the clay stove," her son Arshad Ali said.
"More patients are coming to the unit compared to previous years, as the country is facing a harsher winter than before," Samanta Lal said.
A severe to mild cold wave has been sweeping over a big part of the country, causing immense suffering.
On January 8, the country saw its lowest temperature in five decades, as the mercury dropped to 2.6 degrees Celsius in Tentulia.
"Even with limitations, we are trying our best to cope with the pressure," Samanta Lal said, calling for raising awareness regarding fire related accidents, which may help reduce the number of patients.