Cold brings misery for the little ones
Cases of pneumonia, diarrhoea among children rise over the last 4 days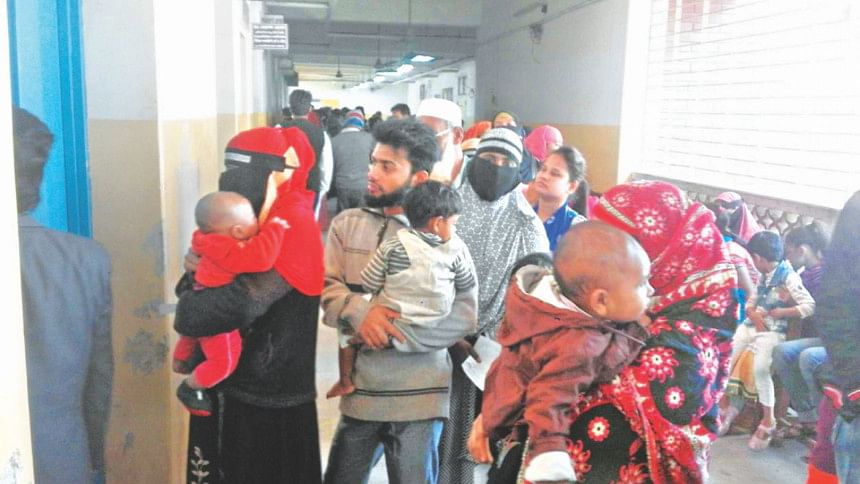 With an oxygen mask on, Safat, little over a month old, was reluctant to open his eyes at Dhaka Shishu Hospital. His mother wore a worried expression on her face as she held him tightly, trying to keep him warm.
Safat was one of 15 children undergoing treatment for pneumonia at the medicine ward yesterday.
The Met office recorded the lowest temperature in Dhaka at 9.5 degrees Celsius. Elsewhere, the lowest temperature in five decades was recorded at 2.6 degrees Celsius in Tentulia of Panchagarh on Monday. 
As the temperature dropped significantly across the country this week, his mother said, she noticed on Sunday that the child was having difficulty breathing.
As his health began deteriorating that day, the family from Narayanganj rushed him to the Shishu hospital.
According to hospital records, child patients with complaints of pneumonia and cold-related diarrhoea increased from Saturday. During the next two days, the number of such patients reached 26 and 18 respectively whereas the figure hovered between 10 and 14 last week.
Most of the patients brought to the hospital were from Dhaka and its adjacent areas. Two-month-old Tasfia Zannat Tahia was brought to the hospital on Sunday with pneumonia while Nusrat, of around the same age, came from Barisal and was suffering from diarrhea.
Children in other parts of the country were also affected by the diseases as reported by our district correspondents.
Elderly people and children have been the most affected during the cold wave in Panchagarh, said Civil Surgeon Saiful Islam.
Saniul Ferdous, upazila nirbahi officer of Tentulia, said that though the area witnessed a severe form of cold this winter, "we have enough preparation to deal with it". 
In Dinajpur, 18 children aged between two to 16 months, got admitted to different upazila health complexes within 24 hours until yesterday afternoon.  Of them, 10 were suffering from pneumonia and the rest from diarrhoea. 
Nayeem, aged only two months, of Nandail village under Chirirbandar upazila, had been admitted to Dinajpur General Hospital on Sunday afternoon after his parents noticed he was having shortness of breath.  
"I had never experienced such cold," said Lyli Begum, the child's grandmother.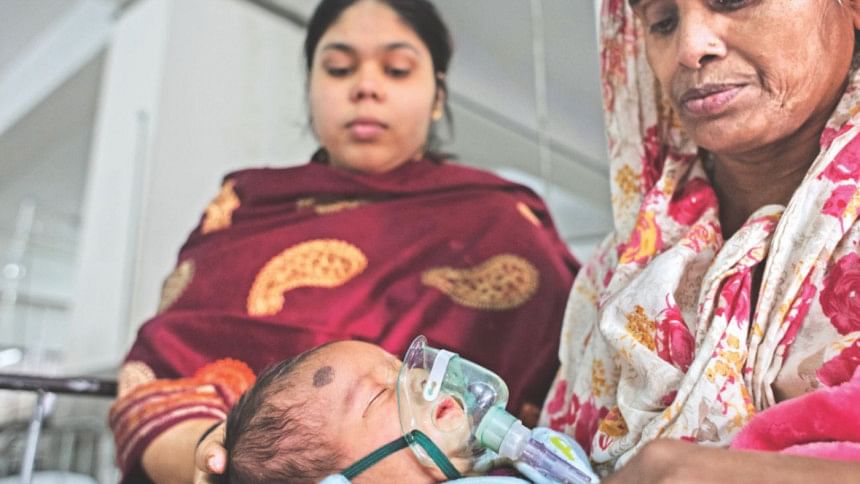 Mawla Bakhs Chowdhury, the civil surgeon in Dinajpur, said the situation was still under control. All the doctors and staff of upazila health complexes have been given instructions in dealing with such patients. Help desks have also been opened at the health complexes.
Newborns are suffering from pneumonia and diarrhoea, due to three factors: the cold weather and lack of awareness on hygiene and economic hardship of parents, said doctors at Rajshahi Medical College Hospital.
The situation is similar in Pabna, Tangail, Kurigram, Nilphamari and Thakurgaon.  
During the cold wave in December and January, common diseases affecting children are pneumonia and cold-related diarrhoea caused by a virus, said Salahuddin Mahmud, assistant professor of the paediatric, gastroenterology, hepatology and nutrition department. 
To avoid pneumonia, parents should refrain from going out with children in the early morning and in the evening since the temperature drops significantly during that time. If they leave home, they should wrap the children in warm clothes covering their head, hands and feet. 
If a child suffers from diarrhoea, especially caused by the rotavirus, oral saline may not be able to help retain the balance of electrolytes in the baby's body. In that case, parents should seek help at the nearest hospital immediately, Salahuddin added.
More children may contract pneumonia as the seasons change because      their bodies cannot easily adapt to temperature fluctuations, the doctor of Shishu hospital said, cautioning      parents to remain alert even after the cold spell ends.