Cold wave likely to continue till Jan 14
Temperature rises slightly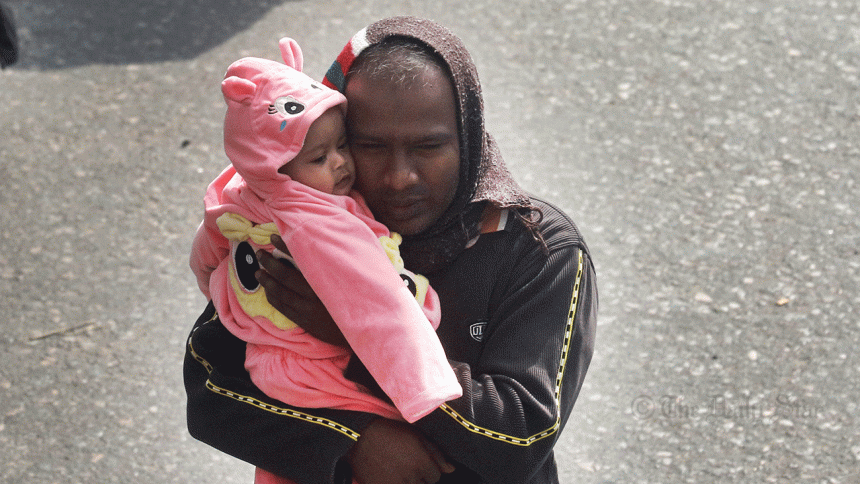 The severe cold wave prevailing over Bangladesh makes way for a moderate cold wave which is likely to continue
till
January 14 according to met office forecast.
"Severe cold wave sweeping over Rangpur and Rajshahi divisions and the regions of Tangail, Srimangal and Chuadanga is likely to continue till January 10," said a met office press release today, BSS reports.
Moderate to thick fog may occur over the northern part of the country and the river basins and light to moderate fog elsewhere over the country from midnight to morning and it may continue, the release added.
The weather may remain mainly dry with temporary partly cloudy sky over the country during this period.
However, Met office says the cold wave that has been persisting for the past few days and plunged mercury to a 50-year low yesterday, is lifting gradually and the temperature all across the country rose by 1-2 degrees Celsius, with forecast that it would get warmer in coming days.
Today, the lowest temperature recorded was in Dinajpur, at 4.8 degrees Celsius. Tetulia, which recorded the lowest in Bangladesh's history at 2.6 degrees yesterday, saw 5.8 degrees temperature today.
Weather forecast says, the severe cold wave is sweeping over the northern regions and a mild to moderate cold wave is prevailing over central and southern regions.
However, about one or two more cold waves are expected to sweep over later this month.
In Dhaka, the minimum temperature today is expected to be 10.7 degrees Celsius.