Public safety ignored
Workers, pedestrians in danger at Moghbazar flyover site due to scanty safety measures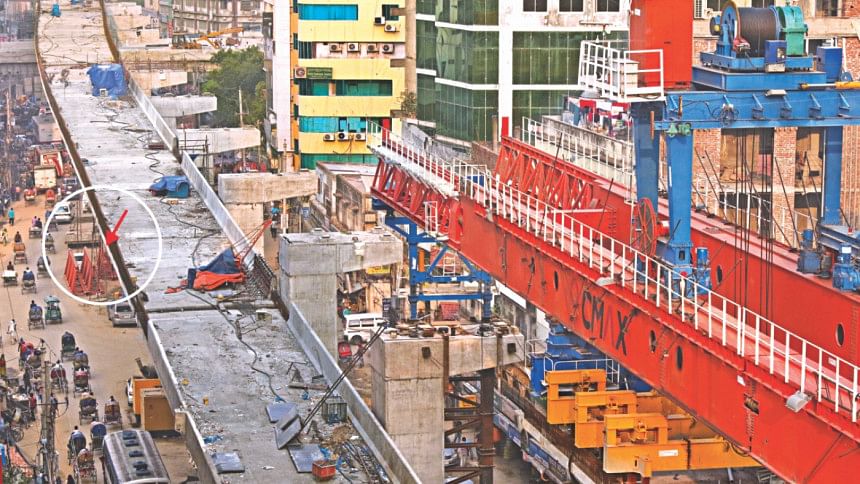 Construction of the massive 8.7km Moghbazar-Mouchak flyover in the capital without adequate safety measures is putting the workers' lives and public safety in great danger, said experts.
Public safety measures like enclosures, scaffolding and fencing are ignored at the construction site, leaving thousands of people passing by the site every day in peril, said Prof Syed Ishtiaq Ahmad of civil engineering department at Buet.
Likewise, the standard safety rules for the workers are grossly ignored too, he added.
A construction worker was killed after an iron rod fell on his head at the flyover's construction site in Eskaton yesterday. He was not wearing any safety gear.
Tapash Ghoshal, a sub-inspector of Ramna Police Station, who recovered Rabbi Ahmed Emon and rushed him to Dhaka Medical College Hospital, said, "Emon had no safety gear, not even any helmet, on when we recovered him."
Apparently, the safety manual designed for such a major project is not being followed, said noted civil engineer Jamilur Reza Chowdhury.
Rudimentary personal safety gears like helmet (hard hat), special boot and retro reflective vest are mandatory for a construction worker as per standard safety guidelines, he said, adding that the workers engaged in piling work have to have ear protector and those engaged in wielding must have eye protector.
"Helmet is extremely vital for construction workers because it is believed to prevent 90 percent of casualties, as most accidents at construction sites occur from falling objects from above," said another renowned civil engineer Prof Shamsul Hoque. 
The project has not undergone the road safety auditing either even though it is required under the 2005 Guidelines for Road Safety, said official sources.
The Local Government Engineering Department has been implementing the Moghbazar-Mouchak flyover. The project drew huge criticism from experts for being implemented with half a dozen gross flaws without mandatory approval of Dhaka Transport Coordination Authority.
Nazmul Alam, project director of the flyover, said, "We provide safety gears but the workers decline to put them on complaining of unease." 
Regarding workers' safety, he said, "We follow up safety compliance." 
Asked why the workers are still without safety gears, Nazmul said, "As the project director and the supervision consultant, I cannot evade responsibility for the lapse and causality."