2 'Neo JMB men' held
Counterterror unit says duo detained on Friday, families say month ago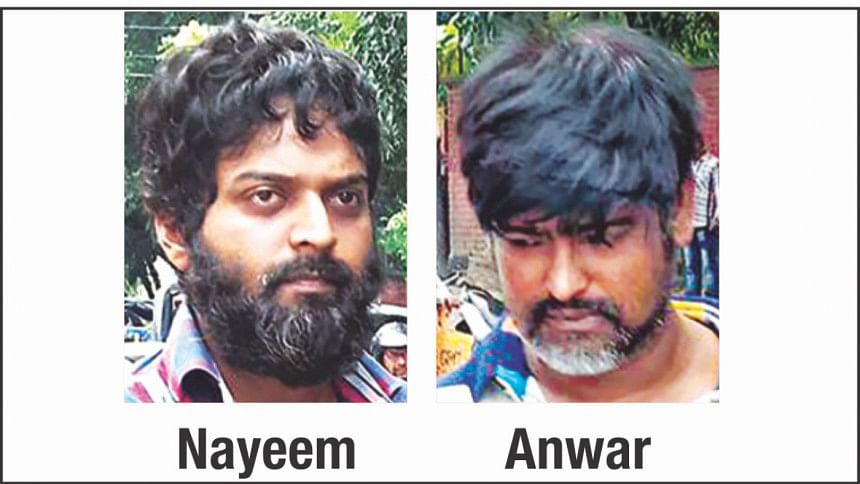 Counterterrorism officials yesterday claimed to have arrested two suspected members of militant outfit "Neo JMB" in the capital's Khilkhet area.
Although the officers claimed that they arrested Nayeem Ahmed alias Anas, 30, and Anwar Hossain, 35, on Friday night, family members of the duo said they were picked up by unidentified men over a month ago.
Nayeem was picked up from near his Adabar home on July 27 and Anwar, a mechanic, from his motor workshop in Savar on July 31, their families said.
Nayeem's mother Farzana Ahmed lodged a general diary (GD) with Adabar Police Station on August 1 and Anwar's brother Ali Hossain lodged a GD with Savar Police Station the same day.
Counterterrorism officers at a press briefing yesterday said they found 30 detonators in their possession.
Monirul Islam, chief of DMP's Counter Terrorism and Transnational Crime (CTTC) unit, said a team, acting on a tip-off, arrested Nayeem and Anwar when they were trying to meet and discuss organisational activities.
Monirul said Nayeem and Basharuzzaman alias Chocolate joined "Neo-JMB" together in 2015. Basharuzzaman, who is believed to been killed during a raid on a militant den in Chapainawabganj on April 27, was a "Neo-JMB" fund collector.
Both of them worked for an IT firm in Dhaka.
"Nayeem took a 40-day military training with some of the militants killed in Kalyanpur during a raid on July 26 last year," Monirul said.
He added that Nayeem kept in touch with IS militant Saiful Haque Sujon, who was recently killed in Syria, via secure messaging app Threema.
On the other hand, Anwar, who lived in Savar's Hemayetpur, joined "Neo JMB", which according to CTTC officers is an offshoot of the banned militant outfit Jama 'atul Mujahideen Bangladesh (JMB), in 2015.
He used to find shelters for "Neo JMB" leaders in Savar and Ashulia. He also used a portion of his earnings for terror funding, Monirul said.
Officers will investigate whether they were involved in any of the murders committed by "Neo JMB", CTTC officers said.
Monirul said the terror outfit had plans to carry out a car bomb attack before last year's July 1 café siege. Some of the militants even tried to make a car bomb at Anwar's workshop.
The CTTC chief said all of the operatives were killed during different raids.
FAMILIES CONTRADICT
Nayeem's mother Farzana told The Daily Star that he left his job at the IT firm almost two years ago as the late-night working hours took its toll on his conjugal life. Nayeem started selling different household items online.
On July 27, Nayeem and his wife went to Islampur to buy clothes at the wholesale market for his business. While they were there, a man called him and ordered a gold measuring scale.
"He returned home with the clothes around 7:10pm and went to Shyamoli intersection, some 100 metres from home, to deliver the scale. He never returned. He told me to keep his meal ready. He did not even take his wallet," the grieving woman told this correspondent at their Adabar home.
His phone was switched off since then. After a few days, a man identifying himself as Rostom, called and said Nayeem was at the DB office. The man later gave the family a note hand-written by Nayeem, she said.
The family contacted the DB office but was told that Nayeem was not picked up by them.
Seeing Nayeem in yesterday's news, Farzana said her son wore the same shirt when he left the house.
Nayeem's wife, a school teacher who did not want to be named, said she married him in 2010 after being in a relationship with him for several years.
"My husband is religious. I do not find anything suspicious about him."
On the other hand, Anwar's brother Ali Hossain told our Savar correspondent that several men came in a blue microbus at his workshop and identified themselves as DB officers on July 31 and picked him up.
Requesting anonymity, a roadside tea stall owner of the area corroborated the account.
When Ali contacted Savar Model Police Station and Savar DB, he was told that they did not pick up Anwar.
Ali Hossain said a policeman in Savar Police Station asked him to contact DB office on Minto road. "We contacted there, but did not find him," Ali Hossain said, adding, "I do not believe Anwar is a militant. He is a victim."
Ali and neighbours said Anwar lived with his family in a rented house in Jadurchar area for the last 15 years.