Triumph of a teenager
Rangpur girl, 13, stops own wedding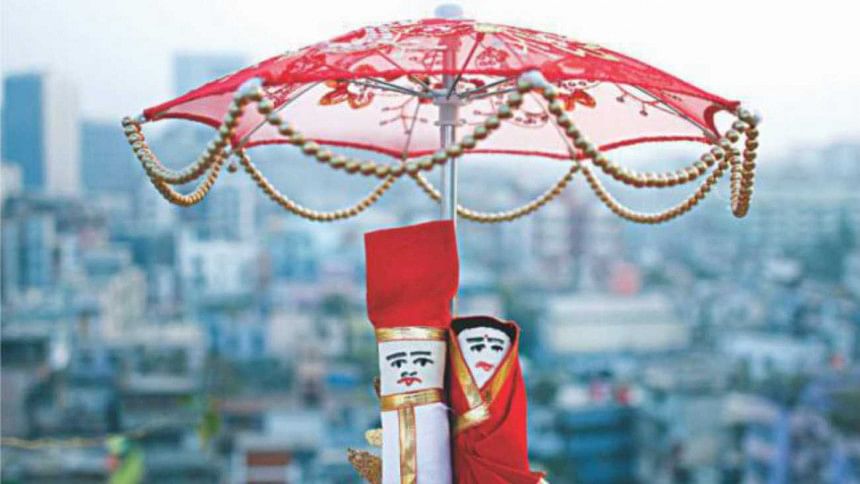 The wedding was to be held yesterday.
According to Rangpur Sadar Police Station, Sagarika, 13, daughter of Md Alam Mia of Bailey bridge area under Kaunia upazila of Rangpur, tried many a time to convince her parents to stop her marriage.
Like every other teenager with young and vivid dreams of studying and making something of herself.
Her parents would not take her 'no' for an answer. And so, she did the only thing that made sense to her then -- she ran. While her wedding preperations were full underway, Sagarika, a class six student of a local school, fled the village she was taken to by her parents, and took herself to Rangpur city on a bus.
She was roaming the streets in Keranipara area of Rangpur aimlessly, not knowing what to do next. What she did know was that she was not about to become another child bride.
Her turmoil began when Sagarika and her parents, who live in Shripur of Gazipur district for job purposes, went to her ancestral village a week ago. Her uncle, Md Jahurul Haque, had chosen a local youth as her husband and settled her marriage with him without her say in the matter. She was engaged to him on Friday and the wedding was fixed for Tuesday.
After she fled and came to Rangpur city, she was noticed by locals, one of whom was Fuad Hasan, and NGO worker based in Keranipara. "We approached her and asked her if she was in need of help," he said.
She shared her story with them, after which they took her to Rangpur Sadar Police Station so that she could get the help she needed.
After police heard of her plight, they contacted her parents and uncle immediately and called them to the station.
With her parents at the station, at around 11:00pm, Sagarika's marriage was called off, as Babul Mia, officer-in-charge of the station, warned the family to not marry her off until she was of legal age (18-years-old). The police also added that they will keep a close watch on them.
They were sent home with the warning.
But for Sagarika, it wasn't just a warning given to her parents; it was her moment of triumph.