Traffic terrible
Commuters suffer as major roads blocked for agitation by nurses, rally for Tonu, VVIP movement during opening of flyover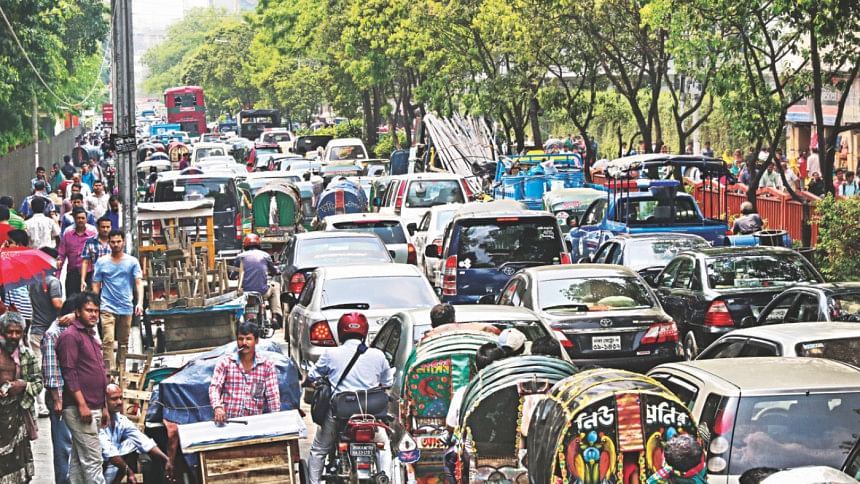 Sonia Ahmed had had enough of city traffic yesterday after remaining stuck in a huge tailback near New Market for about one and a half hours.
Riding in a CNG-run auto-rickshaw in the hot spring afternoon, the 40-year-old was struggling with pain from a stiff neck and a full bladder.
She was on her way home at Dhanmondi from Dhaka Medical College Hospital.
"No auto-rickshaw would head towards Dhanmondi. The only one that agreed to go asked for a fixed fare of Tk 200," Sonia said.
Although the fare for the four-kilometre trip was quite high, she got on the vehicle around 12:30pm. She needed to go home soon and use the toilet.
Around 2:15pm, the auto-rickshaw reached Dhanmondi, two blocks away from her house and she was extremely frustrated.
"I am convinced that I am quite unfit for a job which requires frequent commuting across the city. I better do something home-based rather than going through this physical stress every day," said the employee of a private firm. 
Like Sonia, thousands of other commuters suffered delays for several hours yesterday on different city routes due to protests on some streets and inauguration of a part of the Moghbazar-Mouchak flyover by Prime Minister Sheikh Hasina.
It took sexagenarian Rubi Alam almost five hours (10:00am to 2:45pm) to reach Bangabandhu Sheikh Mujib Medical University (BSMMU) from Uttara by her car for a clinical test.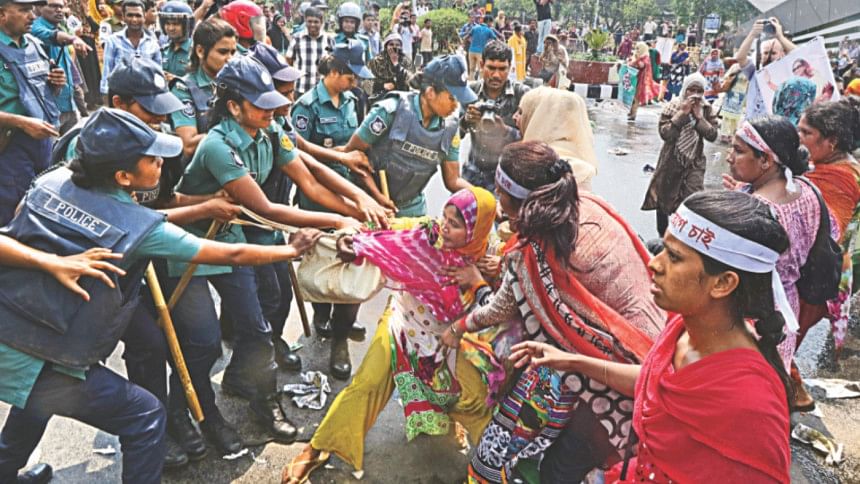 "At one stage, I asked the driver to return home. But even that was not possible as both the lanes of Mohakhali Flyover was filled with vehicles," she told The Daily Star. She suffered pain in her knees and legs, sitting long hours in the car.
A biker, who occasionally drives down the wrong lanes of roads to reach his destinations on time, said: "The traffic was so heavy today [yesterday] that I couldn't even drive on the wrong lane."
Shahjahan Mia, who was travelling from Gazipur to the city's Shahbag in the morning, was surprised that it took him two hours to cross about 40km between Gazipur and Mohakhali, but over three hours to pass the six-kilometre stretch between Mohakhali and Shahbag.
Starting from Gazipur at 8:30am, he reached Mohakhali at 10:30am and Shahbag at 1:40pm.
Commuters fell victim to unexpected delays as a group of unemployed nurses blocked the Shahbagh intersection around 10:00am. They staged demonstrations there for about three hours.
Besides, some roads were made off limits to traffic during the inauguration of the Moghbazar-Mouchak flyover by the PM at 10:30am.
"The Shahbag intersection, one the most important junctions in the capital, is often blocked by people in the name of protests," said Sonia.
Halting traffic at Shahbag has now become an everyday matter, she added.
Students from different private universities also staged demonstrations on Mirpur Road around noon for about an hour. They formed a human chain at Dhanmondi-27, demanding arrest of the killer(s) of Sohagi Jahan Tonu, a student of Comilla Victoria College.
The students blocked the Road-27 intersection for a few minutes, causing tailbacks in the area. There were demonstrations in some other parts of the city, demanding justice for the murder of the 19-year-old college girl.