Kidnap in Rangamati
Tortured boy rescued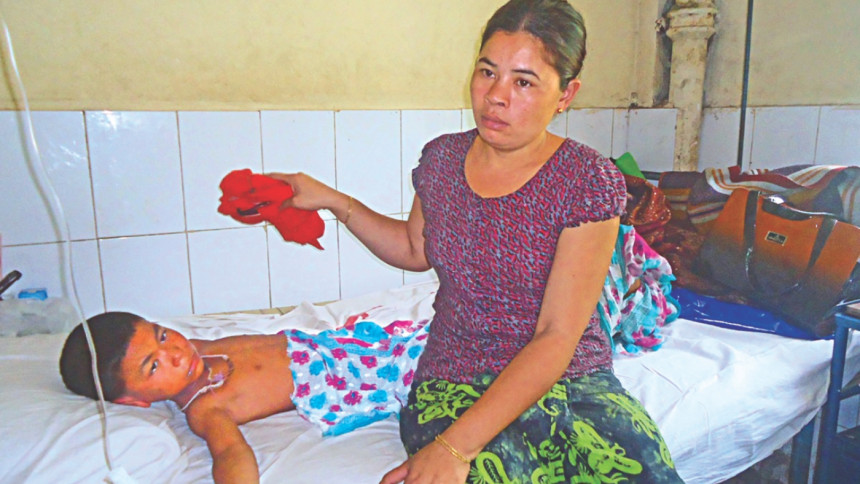 Lying on a hospital bed, Bijoy Marma looked absolutely helpless. Several parts of his feeble body had bruises and his eyes could tell you that he was still haunted by fear.
The seven-year-old was beaten mercilessly after his abduction from Rajasthali upazila of Rangamati on Thursday morning. Luckily he was rescued and his "abductors" were arrested yesterday, said police.
The victim, a class-II student at Islampur Government Primary School in the upazila, was undergoing treatment at Bandarban Sadar hospital.
The arrestees -- Monowar Hossain, 24, Salauddin, 20, and Rasel 22 – were from Islampur.
Ohid Ullah Sarkar, officer-in-charge of Rajasthali Police Station, claimed that they identified the three youths as the abductors after talking to the victim. The arrestees have confessed to committing the crime, he said.
The families of the trio could not be reached for comments.
The police official said the three youths met Bijoy's father Pu Thoai U Marma some 20 days ago and allegedly demanded Tk 5 lakh from him as extortion money. Thorai was building a concrete home for his family in Islampur area.
As he refused to give them the money, they picked up the boy for ransom on Thursday morning when he was on his way to the school.
The parents mounted a search and informed police about the incident afterwards.
Yesterday morning, members of police and army along with locals rescued Bijoy from a remote place in a jungle in Rajbila area of the district. The abductors had fled.
The victim could be traced as a local had seen three men taking a boy into the forest on Thursday, OC Ohid said, adding that the trio was arrested from their homes later.
Bijoy appeared to be paranoid when this correspondent visited him at the hospital yesterday.
"They [abductors] beat my child whenever he tried to scream for help," Mya Nu Marma, the mother, sobbed.