Torture on Pregnant Woman: Three arrested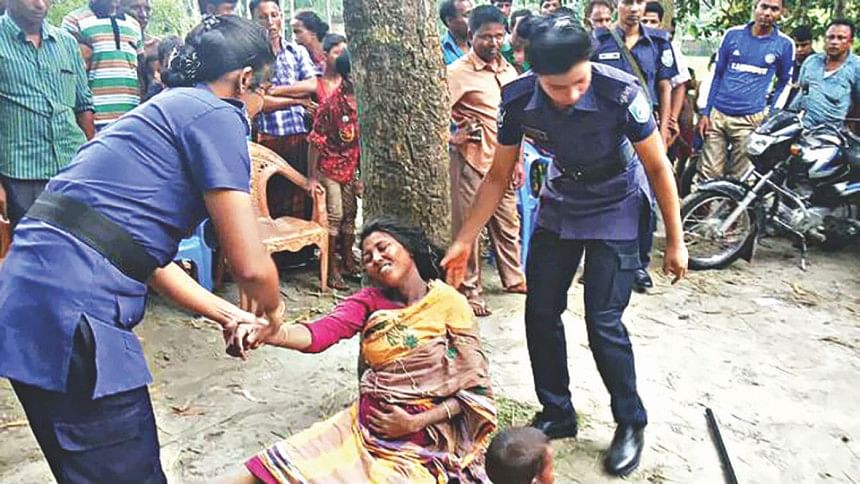 Police have arrested three people, including a member of Gram (village) Police, in a case filed for torturing a seven-month pregnant woman in Uttar Baishpukur village of Dimla upazila.
Victim Shefali Begum, 32, wife of a rickshaw puller in Baishpukur Kolonjhar village, alleged that some people tied her to a mango tree and beat and kicked her indiscriminately on instructions of a ruling Awami League leader.
On Sunday night, police arrested the three -- Rashidul Sardar, 45, member of Gram Police; victim's brother-in-law Rafiqul, 40; and Rafiqul's mother Opeya Khatun, 65.
Victim's younger sister Moni Aktar said criminals killed their father in 2012 over a land dispute. A murder case is now under trial at a Nilphamari court.
Accused of the murder case are close to some AL leaders and they pressured Shefali to settle the case outside the court, but failed.
Angered, the AL leaders toutured her sister, alleged Moni.
Talking to this correspondent at Rangpur Medical College Hospital yesterday, Shefali said, "On Friday morning, she went to her elder sister Aklima's house in Uttar Baishpukur village to resolve a quarrel between Aklima and her husband."
At one stage, a scuffle ensued between Aklima's husband Rafiqul and her.
On information, Abdul Kader, president of ward-4 unit AL in Khalisha Chapani union, came to the spot with his followers, Shefali said.
On Kader's directives, his men and members of Rafiqul family tied her to a mango tree and started beating and kicking her, Shefali alleged.
Gram Police member Rashidul also took part in the beating, she said.    
Police then rescued her.
Kader, who was accused in the case, denied the allegation of his involvement in torturing Shefali.
Later, a case was filed against 19 people with Dimla Police Station.