Artistic way to recall 1971
Works of Nilphamari craftsman depict Liberation War events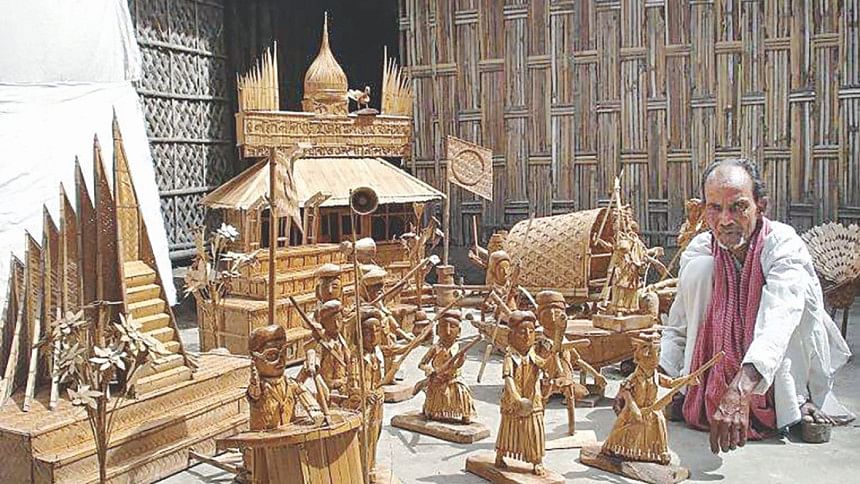 Craftsman Dhananjoy Roy has turned his thatched hut in a remote village of Nilphamari into a mini Liberation War museum.
With trembling hands and poor eyesight, the 80-year-old has been making bamboo structures depicting significant events of the 1971 war.
Every year, marking the month of victory, Dhananjoy puts his creations on display on his front yard in Khaliasha Poncha village. 
The artisan believes that with time, people are forgetting the significance of the war. He wants to pass on the spirit of the Liberation War through his work.
During 1971, Dhananjoy took refuge in India after losing his near and dear ones to the brutality of the Pakistan army.
"I want to embody the realities of the war so that the young generation gets to know about the great sacrifices made by their forefathers," Dhananjoy told this paper.
During a visit, this correspondent found a number of bamboo-made figurines on display outside Dhananjoy's home. Replicas of the National Memorial and the Central Shaheed Minar were also there.
One figurine was of Bangabandhu's historic March 7 speech.
Another set of figurines displayed people fleeing on foot, on boats, and on bullock carts to India. The artisan crafted a number of miniature freedom fighters and Pakistan army men.
The surrender of the Pakistan army led by Gen Niazi was portrayed in one of his works made of slate, fine sticks, and bamboo roots.
Dhananjoy uses a special knife to prepare the slates and sticks and curve them into shape.
People from other villages come to see his work. The visitors, especially children, ask Dhananjoy about the war which he happily answers.
Fazlul Haque, commander of Bangladesh Muktijoddha Sangsad's Nilphamari chapter, paid a visit to Dhananjoy's hut. "The young generation is getting glimpses of the war because of his efforts," he said.
Golam Mostofa, former principal of Nilphamari Government College, described Dhananjoy's creations as "perfect" and stressed on preserving them.
Dhananjoy and his wife have three sons. The youngest takes care of the couple with the earning from selling puffed rice.
Palashbari Union Parishad Chairman Momtaj Ali said, "Dhananjoy Roy is enlightening us" … but he is utterly poor and the authorities concerned should come forward and help him.