900-year-old temple found in Nilphamari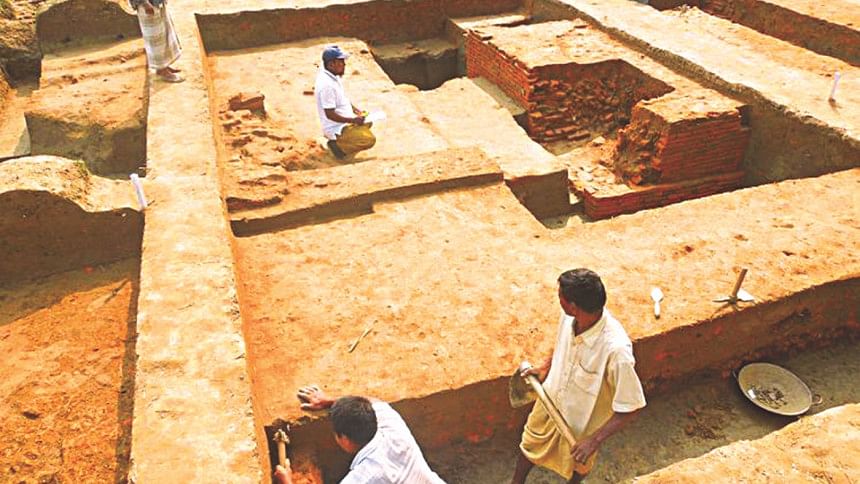 A Buddhist temple, believed to be built in the 12th century during the Pala period, has been unearthed in Jaldhaka upazila of Nilphamari.
 A team from the Department of Archaeology excavated the temple on a reserved archaeological site in Dharmapalagarh area, named after the 2nd Dharma Pala who had established his capital there.      
Mujibur Rahman, leader of the seven-member team that has been working since January 1, said the upper portion of the temple was destroyed and some parts of its basement were still buried. 
He said they discovered several broken parts of clay pots, white marble slabs with motifs and a wall with overly burnt large bricks around the structure.
The length of the wall is 25 metres while the thickness 0.85 metres.
Also, the main structure of the temple is encircled by a 1.2-metre wide passage on which devotees used to walk as part of their rituals, said Mujibur, also the custodian of Mahasthangarh Museum in Bogra.
He said his team along with 20 workers arrived in January as part of an annual excavation programme of the government.
In 1987, the government declared Dharmapalagarh with some 30 acres of land and its surrounding Moynamotir Kot, shrine of Kherkathi Pir and Satisher Danga, a nearby place, a reserved archaeological site realising its historical importance, he added.
Assistant Custodian of Mahasthangarh Museum SM Hasanat Bin Islam, another team member, said the bricks found in the temple seemed similar to that of Mahasthangarh.
Asked about the historical background of Dharmapalagarh, Abu Sayed Inam Tanvirul, custodian of Rangpur museum, and another team member, said British archaeologist Dr Fransis Bukanon visited the area during 1807-08.  
In the following years, he prepared a map to draw the attention of the government and historians to the site.
In 1876, another British national, Major Renel, made a thorough survey of the area and wrote down the findings on a book, paving the way for future excavation, said Tanvirul.
Golam Mostofa, lawmaker from Nilphamari-3 constituency, said," In the ongoing parliament session, I had asked the government to undertake a project for the extensive excavation in the area as the archaeological evidences of Dharmapalagarh may contribute to the study of history."
Thousands of people are visiting the newly excavated temple every day while additional members of police have been deployed in the area to maintain law and order.