Together, after long time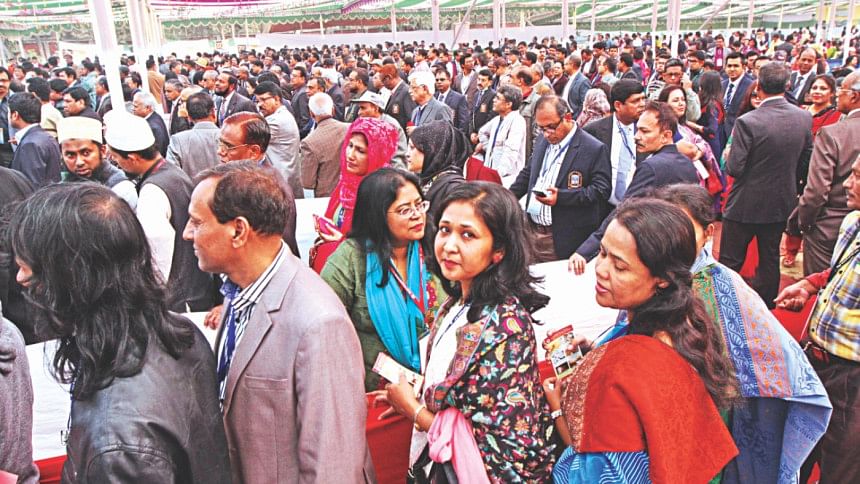 An air of festivity permeated the Dhaka University's central playground yesterday with hundreds of its former students converging to share their joy with old friends and classmates.
They took part in joyful interactions, sang their hearts out, danced and took photographs during the daylong programme -- "Hironmoyee Alumni Melbondhon" -- organised by the Dhaka University Alumni Association (DUAA).
Amid laughter and hugs, they took a stroll down memory lane, reminiscing about the good old days.
The alumni started gathering at the playground from early morning. Some joined the function with families and some with friends. As the day rolled on, the gathering got bigger.
The inaugural ceremony began with Mesbah-Ul-Bar Chowhdury, the most senior alumnus, hoisting the national flag. Later, the national anthem was sung collectively and balloons were released.
DU Vice-Chancellor AAMS Arefin Siddique and Afia Dil, who had completed MA in 1944 from the university as the first Muslim woman, along with several distinguished people were present at the inaugural ceremony.
Addressing the function, the dignitaries urged the alumni to spread the glorious history and spirit of Dhaka University among the young generation so that they concentrate on building the nation in the light of truth, honesty and knowledge.
The inaugural session was followed by a cultural function. Many were seen dancing and singing the songs while the function was going on.
"During our university lives, we used to join different cultural programmes and sing and dance with the performers. We are enjoying the same way today," said Narayan Saha Moni, a former student of political science department.
Nostalgic, many started revisiting memories of the cheerful days they left behind.
"I got admitted to the university in 1974. But I still feel this is my campus whenever I come here," said Dilara Mesbah, a former student of Bangla department.
"I can still have a different smell in the air on this campus. It takes me back to my student life," said Mujahidul Islam Selim, president of Communist Party of Bangladesh (CPB), who got admitted in 1967.
Talking to reporters, veteran educationist Prof Emeritus Serajul Islam Choudhury said, "There may be disagreements and divisions among the students over different issues. But everybody comes under a single platform when it comes to identifying themselves as students of the university."
Shah Alam, a visually impaired man, who studied at sociology department, came all the way from Rajshahi braving severe difficulties in his movement.
"I have met my friends after many years. Although I faced difficulties in coming to this place, I have had a lot of fun here with them," he told The Daily Star.
The university's former VC Prof Emazuddin Ahmed, Attorney General Mahbubey Alam, former industries minister Dilip Barua, among other, attended the programme.