The chair that Bangabandhu never sat on
DU puts it on display after 41 years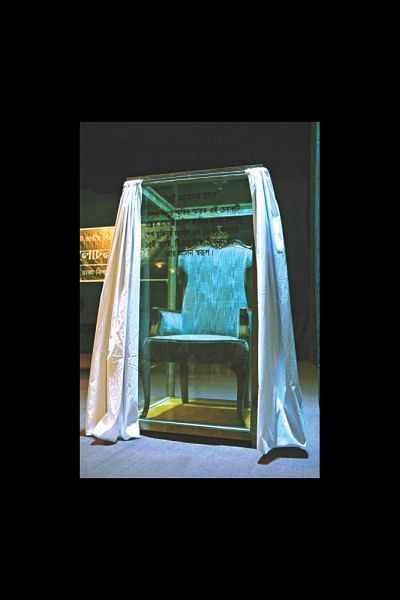 The stage was all set.
Dhaka University made all preparation to hold its convocation on the morning of August 15, 1975, where the country's President Bangabandhu Sheikh Mujibur Rahman was scheduled to attend.
They also brought a special chair for the Father of the Nation. But before dawn broke, Bangabandhu along with most of his family members were brutally murdered by a band of disgruntled army officers.
The DU authorities abandoned the convocation. The historic chair remained unused and uncared for at a room of the Teacher-Student Centre (TSC).
After 41 years, the chair was put on display at TSC yesterday at a programme organised to mark the National Mourning Day. DU Vice-Chancellor Prof AAMS Arefin Siddique inaugurated the chair's display, lifting a curtain. 
"As it [chair] is linked to history, it should be preserved," said TSC Director AMM Mohiuzaman Chowdhury.
The chair gathered dust as it had been uncared for a long time, he told The Daily Star.
Talking to this correspondent, the DU VC said the chair would be kept at TSC auditorium for visitors.
Addressing a discussion at the TSC auditorium earlier, he said, "Bangabandhu lost his studentship on March 26 in 1949 as he demonstrated for the rights of fourth class employees of DU. He was offered a deal to get his studentship back in exchange for an apology and Tk 15 fine, but he rejected the proposal as he never compromised with injustice."
He urged all to unite against militancy and terrorism following the ideology of Bangabandhu.
Various programmes, including hoisting national flag at half-mast, milad mahfil, special prayers, and children's art competition, were held on the campus to commemorate Bangabandhu and most of his family members who were killed on August 15 in 1975.
Earlier in the day, teachers and officials of the university, led by Arefin Siddique, placed floral wreaths at the portrait of Bangabandhu on Dhanmondi Road-32.
Special prayers were also offered after Zohr prayers at the university's central mosque and mosques of its dormitories and places of worship of other faiths.
Dhaka University Journalists Association organised a photo exhibition at the TSC where 115 rare photos of Bangabandhu were on display.
The children's art competition was also held at the Fine Arts faculty.
Meanwhile, Jahangirnagar University observed the National Mourning Day through various programmes, including mourning procession and paying homage to Bangabandhu by placing a floral wreath at his portrait on campus.