Terror groups may target Rohingyas
Home Minister Asaduzzaman Khan yesterday said if the Rohingyas were not safely repatriated soon, they would become easy targets of international terrorist groups that always look for new recruits.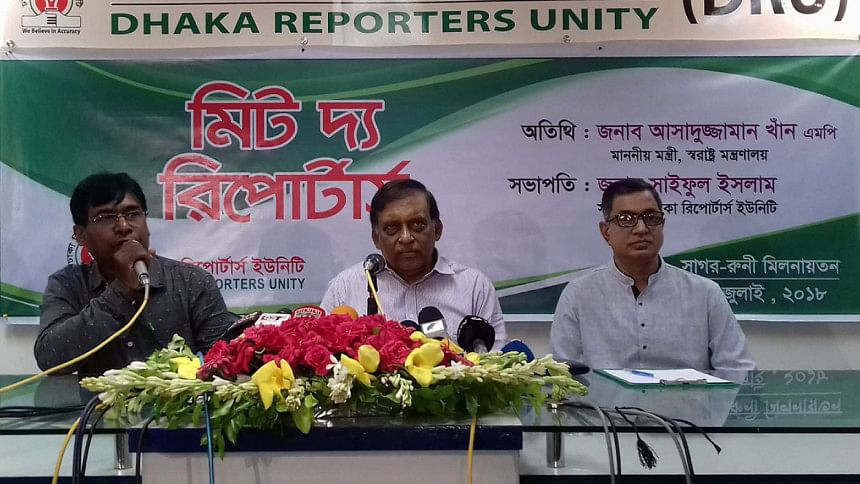 Home Minister Asaduzzaman Khan yesterday said if the Rohingyas were not safely repatriated soon, they would become easy targets of international terrorist groups that always look for new recruits.
He made the comment at a "Meet the Reporters" programme organised by Dhaka Reporters' Unity at its office in the capital. 
He, however, said there was no sign of the repatriation though the Myanmar authorities repeatedly said they would take back the Rohingyas.
Around 10 lakh Rohingyas fled Myanmar and took refuge in Bangladesh after August 25 last year, fearing persecution by Myanmar security forces.
Staying in camps in Cox's Bazar, many Rohingyas are engaging in criminal activities. According to intelligence agencies, some militant outfits have made attempts to recruit operatives in the camps.
At yesterday's programme, Asaduzzaman said a few foreign non-government organisations had already been blacklisted and sent back home for their "dubious" activities in the camp.  He, however, did not name the NGOs.
Speaking on another issue, he reiterated that the ongoing anti-narcotics drive, which left at least 186 suspected drug dealers dead since May 4, would continue.
Asked why the government did not take action against over 200 police personnel who were mentioned as drug patrols in a list prepared by his ministry, the home minister said, "We are not sparing anyone. Possibly you are not getting all the messages".
Those law enforcers were facing departmental action and suspension, he said, adding "one or two have already been sent to jail".
Asked why the godfathers have not been brought to book, Asaduzzaman said the law enforcers were taking action against those whose names appeared in all the five lists prepared by separate intelligence agencies.
He said they were "going slow" as they were also collecting information and evidence against the others.
"Even honourable lawmakers are not spared when they commit any crime. These criminals will also be arrested and brought to book. No one will be spared," he said.
The minister said the case over the murder of Teknaf municipal councillor was under investigation and action would be taken following the probe.  
Akramul was killed in what Rab claimed was a gunfight between the force and drug dealers in Cox's Bazar on May 27.
His wife, however, claimed her husband was murdered in cold blood. She gave journalists four unverified audio clips of chilling conversations in support of her claim.
Asaduzzaman also claimed that the country was not witnessing any incident of enforced disappearance.
"We don't do any extra-judicial killings … we are bringing back those who according to you had disappeared … how can we rescue those who disappear following unsuccessful romantic relationships? … how can we rescue those who disappear after failing in business?" he asked.
On another query, he said it was not right that BNP Chairperson Khaleda Zia was in a "serious condition" in jail. 
"Every day, jail doctors are enquiring about her health. I also keep asking the IG prisons about her health condition time and again," he said, adding all measures were taken for her treatment as per the jail code. 
Asked about police inaction over the assaults on teachers and students on the Dhaka University campus, the minister said police never "enter the campus or intervene in university issues unless they are asked for help by the university authorities".
Referring to the attack on the residence of the DU vice-chancellor on April 9, he said the attackers were being identified and arrested.
Replying to another query, the minister said Deputy Inspector General Mizanur Rahman, who allegedly married a woman forcibly and also tortured her, was "suspended immediately" and that steps were taken to ensure a flawless investigation into the incident.
"Departmental or judicial action will be taken against him as per the probe findings. You will see that steps are being taken very soon," he said.
Asaduzzaman also expressed hope that Rab would come up with some findings in journalist Sagar-Runi murder case anytime.
Besides, the fugitive killers of Bangabandhu Sheikh Mujibur Rahman would be brought back to the country in the shortage possible time by completing all the legal process with the countries where they are holing up, he added.
DRU President Saiful Islam and General Secretary Syed Shukur Ali Shuvo, among others, were present at the programme.