Sushma flies in today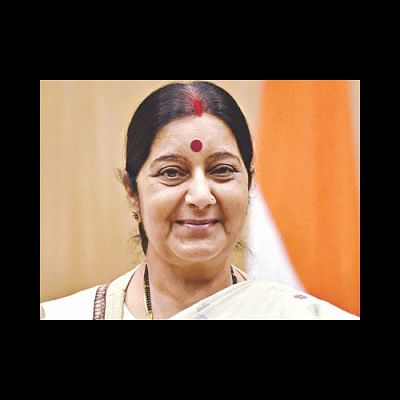 Indian External Affairs Minister Sushma Swaraj arrives in Dhaka this afternoon to join the Bangladesh- India Joint Consultative Committee (JCC) meeting and discuss bilateral relations with top Bangladesh officials.
The discussion is likely to focus on the forced displacement of Rohingyas from Myanmar. Diplomatic sources said Dhaka and New Delhi would discuss how to cooperate on the Rohingya issue.
After arriving in Dhaka at 12:55pm, Sushma will attend the JCC meeting at Pan Pacific Sonargaon Hotel at 4:30pm. The meeting will cover security, trade, water, connectivity, economic cooperation and cultural affairs issues.
The Indian minister will meet Prime Minister Sheikh Hasina at the Gono Bhaban at 6:00pm today.
She will open the new Chancery Complex at the Indian High Commission in Dhaka at 9:30am tomorrow. She will inaugurate 15 development projects and address a programme on the occasion. Foreign Minister AH Mahmood Ali will be present.
Meanwhile, BNP Chairperson Khaleda Zia will have a meeting with the Indian minister during her stay here, said some senior BNP leaders.
A source in New Delhi yesterday told The Daily Star that Sushma was supposed to be back home by tomorrow night as US Secretary of State Rex Tillerson would tour India on Tuesday.
The JCC meeting will review the progress in implementing decisions taken during Indian Prime Minister Narendra Modi's Dhaka visit in June 2015 and Hasina's tour of India in April this year.
About the Teesta River Water Sharing agreement, a senior Bangladesh foreign ministry official said, "Sharing river water is a sensitive issue and it will be raised during Sushma's visit to Dhaka."
The Teesta is the fourth largest transboundary river shared by the two neighbouring countries. The deal was expected to be signed during former Indian PM Manmohan Singh's visit to Dhaka in September 2011. But it fell through after West Bengal Chief Minister Mamata Banerjee objected to the deal.
Counterterrorism is going to be high on Sushma's agenda. The cooperation in energy, trade and sub-regional connectivity is also likely to come up for discussion.
According to an Indian diplomat in New Delhi, India views Bangladesh as an important component of its policy to forge closer links between South and Southeast Asia, given the country's strategic geographical position.
Both the countries are member of the BIMSTEC which India views as an alternative to the largely dysfunctional South Asian Association for Regional Cooperation (Saarc). However, Dhaka does not want to make the Saarc an ineffective body.
For India, the Indian diplomat said, Bangladesh and Myanmar are both important neighbours as it shares long borders with them.
India has viewed with concern increasing Chinese aid and infrastructure assistance to both the countries, fearing a heightening of Beijing's profile and a waning of its own influence in its periphery.
Our New Delhi correspondent adds: The Rohingya refugee crisis and India's development partnership with Bangladesh will dominate Sushma's visit to Dhaka.
On the Rohingya issue, Hasina is expected to impress on the Indian minister that her country will play a more active and bigger role in prodding Myanmar to take back more than a million refugees sheltered in Bangladesh and to solve once and for all the citizenship issue of Rohingyas so that the problem doesn't rear its head time and again.
Bangladesh Foreign Secretary Shahidul Haque has already done the spadework for India's political intervention to nudge Myanmar to solve the Rohingya issue when he visited New Delhi earlier this month and met his Indian counterpart S Jaishankar and National Security Adviser Ajit Doval. 
Since the latest Rohingya refugee crisis began in August, India had backed the Myanmar security forces' operations against Rohingya militants in Rakhine, causing disquiet in Dhaka.
However, as the Hasina government worked on India, it recalibrated its stance by making a nuanced shift, and along with the European Union, called upon Myanmar to facilitate repatriation of Rohingya refugees. India further said the report of the Kofi Annan-led commission could serve as a good basis for a solution.
India has also sent humanitarian assistance to Bangladesh to deal with the refugee crisis and emerged as the biggest donor of aid for this.