Sundarbans: 3-month ban on tourists proposed
Forest department weighing proposal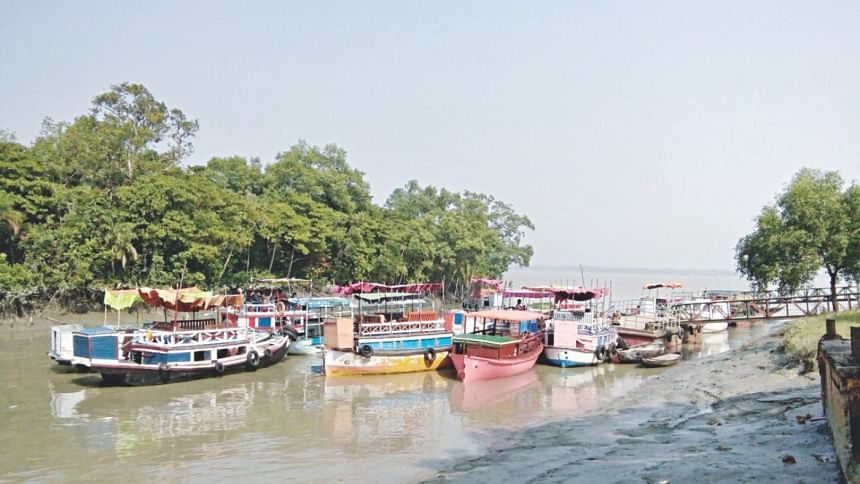 Forest department officials have requested the authorities concerned to ban tourists in the Sundarbans between June and August from next year as the months are the wild animals' breeding season.
The East Sundarbans Forest Division sent a proposal to the chief conservator of forest in this regard last month to ensure that some 375 species of wild animals are not disturbed during their breeding season.
A high official of the environment ministry, requesting anonymity, told The Daily Star yesterday that necessary steps would be taken in this regard.
"Tourists negatively impact the breeding of the animals. June and August are not peak tourism season anyway. We want to ensure a calm environment during the time from next year," said Mahamudul Hasan, forest officer of Sundarbans East Division.
"Sundarbans is the biggest wildlife habitat in the country. The 6,017 square km forest is home to Royal Bengal Tiger, Chitra and Maya deer, Erabati dolphins, saltwater crocodiles, wild pigs and otters," he added.
Surveys in the mangrove forest showed in 2004, 2007, 2011 and 2015 that the three months from June to August were the breeding season, he said.
"We hope that instructions will be issued to ban tourists during the three months.
"Two species of deer, two species of rhinoceros, one species of sweet water crocodile and one species of wild buffalo have already been extinct from the Sundarbans."
Nur Alam Sheikh, coordinator of Bangladesh Poribesh Andolon in Bagerhat, welcomed the move.