Students hold anti-militancy rallies across the country
Educational institutions across the country organised anti-militancy rally yesterday to raise awareness of terrorism and build social resistance against the menace.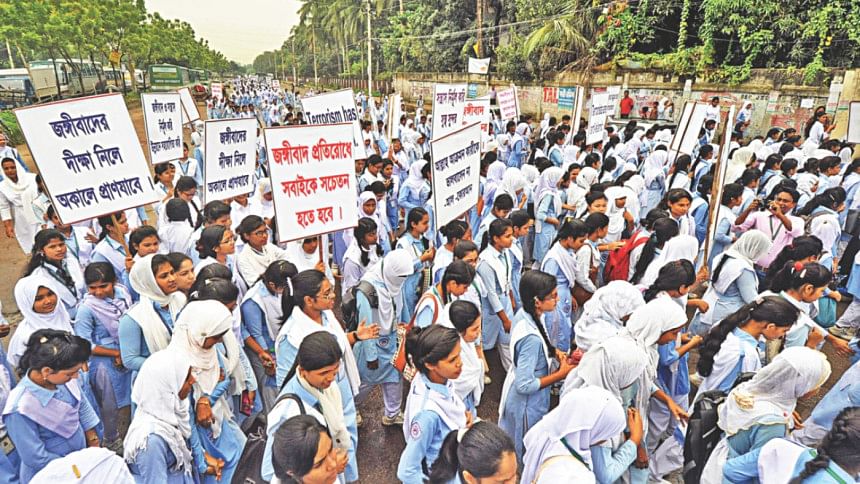 Educational institutions across the country organised anti-militancy rally yesterday to raise awareness of terrorism and build social resistance against the menace.
To stop the upsurge in militancy at educational institutions, teachers, students, guardians, community leaders and journalists joined in the programmes, in response to calls from the education ministry. 
These institutions are now most susceptible to radicalisation, Education Minister Nurul Islam Nahid said while addressing a discussion titled "Our responsibilities to resist terrorism and militancy" at the TSC auditorium of Dhaka University.
"Militants are trying to lead our soft-minded students astray by targeting and brainwashing them," he said. 
Urging teachers to take good care of their students, Nahid said teachers have to consult with guardians if their children remain absent from the institutions for 10 consecutive days.
"Build a good relationship with your students so that they share everything with you; if anyone tries to convince them into joining any militant group."
DU Vice-chancellor AAMS Arefin Siddique urged all to live their lives by their conscience and help build a secular Bangladesh based on the spirit of the Liberation War.
Prof Abdul Mannan, chairman of the University Grants Commission, said, "Some teachers encourage militancy. Some take only one or two classes a year and enjoy their salaries of the whole year. We don't want such kind of 'precious' teachers."
Home Minister Asaduzzaman Khan Kamal at a meeting at Tejgaon College in the capital said law enforcement agencies had confirmed the identities of those who were patronising militancy in the country and so were conducting drives regularly to arrest the militants.
In Chittagong, speakers at an anti-militancy programme urged youths to resist militancy by disseminating the real teachings of Islam and the history of the struggle for liberation.
More than 1,000 students from 33 educational institutions and representatives of teachers joined the programme titled "Youths would resist militancy" at the Institute of Engineers Chittagong. The programme was organised by Chittagong District Administration and Chittagong City Corporation.
Students are becoming robots due to lack of moral education, CCC Mayor AJM Nasir Uddin said.
He urged youths to be aware of militant activities in their institutions and learn moral values.
Deputy Commissioner of Chittagong Mesbah Uddin urged students to inform the administration if they find any change in attitude and behaviour of their classmates.
Islam never teaches people to kill, said media personality Abdur Nur Tusher.
Capturing power is the main target of the militants, not establishing Islam, he said.
In Pirojpur, some 500 schools, madrasas and colleges arranged programmes on their premises, in which speakers urged guardians to be more careful about their children and to consult teachers if they find anything suspicious in their children's behaviour.
Anti-militancy programmes were also held at public and private universities, colleges and schools in Sylhet, Rajshahi, Rangpur, Tangail and Sherpur. Speakers there called for concerted efforts to root out militancy and terrorism, reports our district correspondents.