Solar hope for Manpura
The coastal island in Bhola to become a model of all types of green energy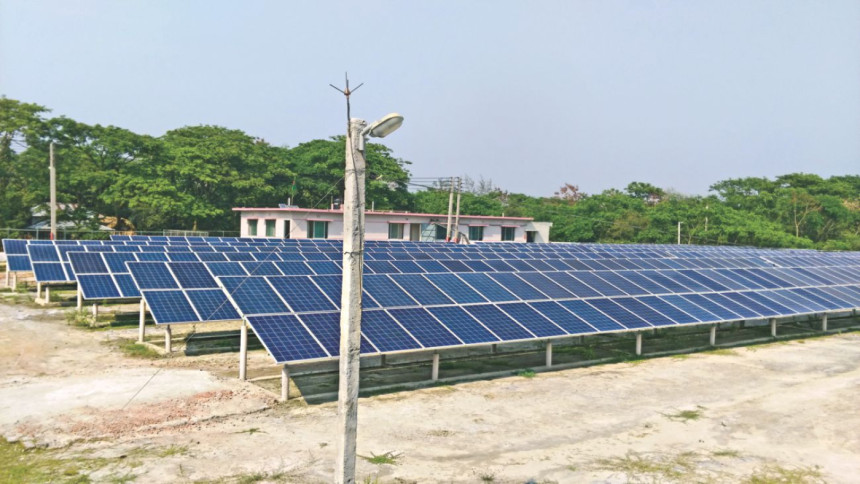 The government plans to turn Manpura into a green island by installing solar power systems as part of its scheme to light up remote and off-grid areas through renewable energy and ensure electricity to every house by 2021.
Under the plan, Sustainable and Renewable Energy Development Authority (SREDA) of the Ministry of Power, Energy and Mineral Resources has identified 250 hard-to-reach areas to light them up by solar and other types of renewable energy. These areas range from remote locations in the coastal belt to chars and haors in northwest and northeastern parts of the country, said SREDA Member Siddique Zobair.
Of the areas, the government plans to develop Manpura island as a model for renewable energy use with the aim to showcase the contribution of green energy in reducing global warming.
"We want to make it a green island. We will take all types of renewable energy -- solar, wind and bio-gas -- to the island," said Zobair.
"This is part of the plan to ensure electricity to all by 2021. We will gradually take up renewable energy to those areas where providing electricity connection through the national grid will not be possible in the next five to seven years," he said.
The 373-sq km island sits in the northern Bay of Bengal in the estuary of the Meghna river.
The island, 80km from Bhola district town, has a population of 1,25,000 with fishing being the main source of their livelihood, according to the upazila administration website.
The plan to power Manpura with green energy came after the initial success of a 177 kilowatt peak (kWp) solar mini-grid set up there in November 2015. There is a growing interest among residents in getting electricity from the mini-grid as solar offers 24-hour power supply.
Currently, Bangladesh Power Development Board (BPDB) provides electricity through generators at Manpura Sadar for six hours a day. It serves only 730 customers out of 17,280 households and commercial clients in the island, said Zobair.
As the island sits in the sea, connecting it with the national grid is challenging. "It is also not commercially viable," Zobair said, adding that the overall demand for electricity would be 4MW in the island.
Earlier, the local office of West Zone Power Distribution Company Ltd under the BPDB made an estimate that nearly Tk 400 crore would be required to connect the island with the national grid through submarine cable, said Abdus Salam, resident engineer at Manpura Electric Supply.
 Zobair said Manpura is a suitable place for harnessing solar and wind energy. "We want to go for both."
The government wants to establish a total of six solar mini-grids through private entrepreneurs to generate more than 2MW of electricity. Of those, a solar power plant with 1MW capacity will be set up and each of the rest will have a capacity of 250kWp.
The electricity generation capacity of the existing mini-grid will be increased to 250kWp from 177kWp, said Enamul Karim Pavel, head of renewable energy at Infrastructure Development Company Ltd (IDCOL), which bankrolls renewable energy projects in Bangladesh.
Some Tk 90 crore will be required to set up these solar mini-grids in Manpura, he said, adding that the IDCOL would finance those projects.
However, the total demand for electricity in the island cannot be met through establishing the six mini-grids. Currently, the peak demand for electricity there is 3-3.5MW, according to Enamul.
"There are some areas where providing connections is difficult and we plan to install solar home systems in those remote areas," he said.
The SREDA's initiative comes at a time when the government aims to meet 10 percent of the country's total electricity requirement through renewable energy by 2021. Currently, renewable sources, mainly solar, accounts for nearly three percent of the total electricity generation capacity of 15,500 MW.
Salina Chowdhury, chairman of Manpura upazila, said people of the island want electricity 24 hours a day. "But electricity prices should be low so that they can afford it."
Residents have to pay Tk 30 per unit of solar electricity, which is much higher than the BPDB tariff, she added.
"Despite the high tariff, people there get electricity from the solar mini-grid. But it is tough for many to pay such a high tariff," Salina told The Daily Star over phone.
DM Majibor Rahman, managing director of Solar Electro Bangladesh Ltd, which has set up the solar mini-grid in Manpura, said electricity bills from the solar mini-grid will reduce if the residents use energy-saving appliances.
"But the cost goes up for those who use conventional fans," he said, adding that the tariff is much higher for industrial users as well.
 Majibor said sometimes people do not want a connection from the solar mini-grid, fearing high electricity bills.
"In such a situation, we encourage them to use energy efficient appliances to keep the cost down," he said. Prior to the establishment of the solar mini-grid there, people took connections through private generators by paying Tk 300 per unit.
"We see a lot of development in Manpura because of solar electricity," said Majibor of Solar Electro, which has already given pre-paid connections to 426 customers, including 11 workshops and a sawmill, there.
We have already received 50 new applications for connections, he added.
Majibor urged the government to provide incentives and zero-duty import of energy saving appliances so that the cost of solar electricity goes down at the consumer level.