Six transport leaders sued for cover-up bid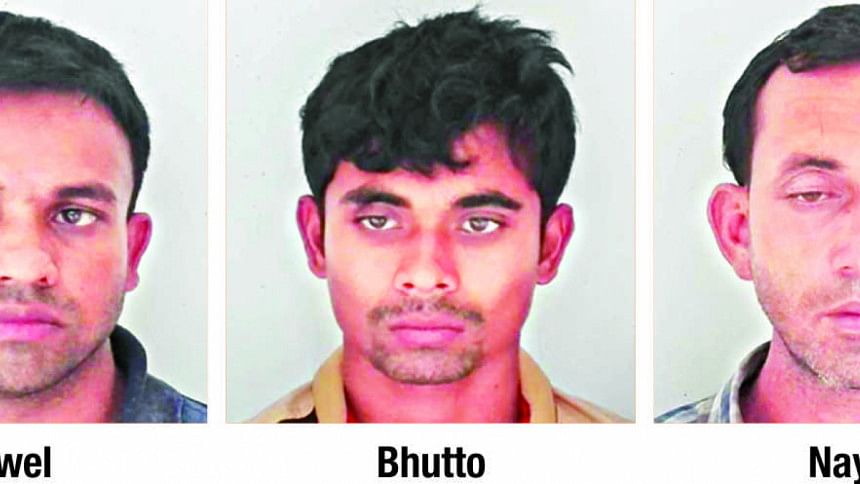 Nine transport workers and leaders have been sued over the "gang-rape" of a female garment worker in a moving bus in Tangail on Friday.
The husband of the victim, aged around 23, filed the case under the Women and Children Repression Prevention Act with Dhanbari Police Station later that night.
Mojibor Rahman, officer-in-charge of the police station, said three of the men were accused of gang-raping the woman while the other allegedly tried to protect the culprits.
The three accused are employees of the bus in which the woman was violated on Tangail-Mymensingh highway in Madhupur upazila. She was on her way home in Gazipur from one of her relative's house in Dhanbari area, he said.
The "criminals" are driver Habibur Rahman Nayan, trip supervisor Rezaul Karim Jewel, and driver's aide Abdul Khalek Bhutto. They have been arrested at different places in Dhanbari upazila.
According to the case statement, the trio gang-raped the victim after the bus started for Gazipur around 6:00am on Friday. There were no other passengers in the vehicle.
The six other accused are vice-presidents of Tangail District Road Transport Workers' Union Ilias Hossain and Selim Uddin, its joint secretary Lavlu Mia, organising secretary Jalal Uddin Jalu, publicity secretary Selim Military, and former organising secretary Abdul Latif.  
Yesterday, a Tangail court placed Habibur and Rezaul on three-day remands each in response to a five-day remand plea, said Dhanbari Police Station Inspector (investigation) Khan Hasan Mostafa, also the investigation officer of the case.
The other "rapist", Khalek, gave his confessional statement before the same court. Senior Judicial Magistrate Luna Ferdousi also recorded the victim's account, he said.
Police said they seized the bus and were trying to arrest the other six accused "who had tried to cover up the incident through an arbitration".
Gynaecologist Rehena Parvin of Tangail Medical College Hospital said they found evidence of rape after the victim underwent several medical tests.
"I have already submitted the report," she said.