Six killed in factory fire
The Munshiganj textile mill lacked fire safety measures; four officials detained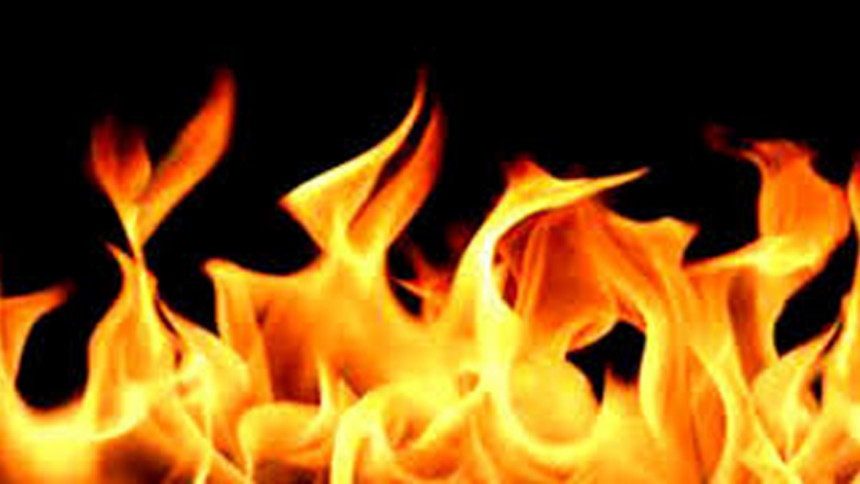 Six workers, including a woman, were killed, as a fire swept through a textile factory in the district town yesterday morning.
The victims are Babu Mia, 22, Ratan Mia, 22, Mohammad Sajeeb, 23, Mohammad Israfil, 23, Nazmul Hasan, 22, and Hasina Begum, 50.
They died of smoke inhalation, said police.  
The fire broke out during welding work on the ground floor of the six-storey warehouse of Ideal Textile Mills at Char Muktarpur around 10:00am and spread quickly after coming in contact with flammable chemicals stored there, said Jaynal Abedin, the in-charge of Muktarpur Marine Police Outpost.
A black plume of smoke engulfed the whole building and killed the six workers before firefighters extinguished the blaze around 12:15pm. 
The firefighters recovered three bodies each from the first floor and the third floor, said Shawkat Ali Joddaer, senior station officer of Munshiganj Fire Station. 
The fire official said the building has no adequate fire safety measures. It has a narrow exit. Chemical drums and clothes were strewn about on different floors of the building, which helped spread the fire rapidly, he added.
Police detained five officials of the factory, including General Manager Khitish Sarkar, from the spot.
Black smoke from the fire thickened the air in the neighbouring areas, making it difficult to breathe.
Kamruzzaman, assistant electrical engineer of the factory, said he and one of his friends managed to go to the rooftop amid dark smoke and later climbed down the sewerage pipe of the building.  
The factory, which has over 400 workers, saw less casualty as it was a holiday for them yesterday.
Five to six others, including two welding workers, who were working on the ground floor, managed to come out of the building, said some factory workers. 
A six-member committee, headed by Additional District Magistrate AKM Shawkat Alam Majumder, was formed to investigate the incident. The committee has been asked to submit the report within seven working days. 
Abdullah Al Mamun, assistant director of the department of environment in Munshiganj, said the factory did not renew its environment clearance certificate. "We issued several notices in this regard, but they did not comply."
Saila Farzana, deputy commissioner of Munshiganj, visited the spot.
The district administration announced giving Tk 25,000 to each of the victims' families.