Road accidents claim 29 lives in three days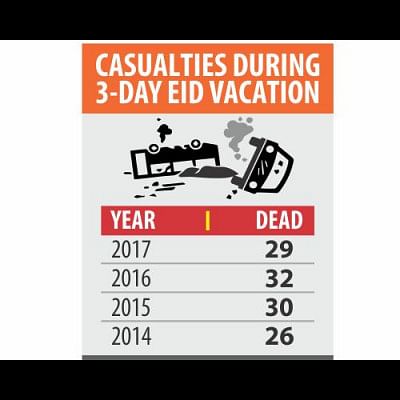 Road accidents claimed the lives of at least 29 people and left dozens others injured during the three-day Eid vacation till Sunday.
Besides, nine people were killed in road accidents across the country yesterday.
Of the dead, six were killed in Chittagong, four in Sirajganj, three each in Dhaka, Cox's Bazar, Laxmipur, Rangpur, Bagerhat and Comilla, and two each in Tangail, Kushtia, Mymensingh, Madaripur and Sherpur, reported our correspondents in the districts.
At least six of the 20 accidents took place when buses and trucks hit slow-moving vehicles -- auto-rickshaws run by CNG and batteries -- on highways where they are banned. 
Seven of the accidents happened as the drivers lost control and the vehicles overturned.
Besides, one Latifa Banu, 47, was killed after being crushed under the wheels of a train in Kadamtali in Chittagong early yesterday.
During the three-day holidays of last Eid-ul-Azha, road accidents had taken 32 lives. This year the number has been 29 while it was 30 in 2015, 26 in 2014, 10 in 2013 and 40 in 2012.
In five separate accidents in the last four days, seven people, including a couple, were killed in Chittagong.
On Friday, a bus overturned in Nayakhaler Mukh area of Satkania after the driver lost control around 10:00am, leaving Gias Uddin, 28, a resident of Satkania municipality, and his wife Nur Nahar Akter Nuri, 23, dead on the spot and nine other passengers injured.
The injured were taken to a local hospital while one of them Azizul Islam, 55, a resident of Banglabazar area in the upazila, died of his injuries on the way.
Earlier in the day, two young men -- Sohel, son of Nurul Absar of Purba Rahadabad area in Fatikchhari upazila, and Bashir, son of Abu Taher of Bhola Sadar upazila -- were killed in two separate road accidents in Aturar Depot and Hamjarbagh areas of the city.
Around 1:30am yesterday, Kawsar, 25, of Narayanganj, died of his injuries while his nine friends were also injured when a covered van collided head-on with their Cox's Bazar-bound microbus on Dhaka-Chittagong Highway in Mostannagar area of Mirsarai.
They were on their way to a picnic.
Three people were killed and 15 others injured as another Cox's Bazar-bound picnic bus overturned on Chittagong-Cox's Bazar highway in Ramu upazila. The accident happened after the driver lost control of the steering around 6:00am yesterday.
The identities of the victims could not be known immediately.
In Mymensingh, two people were killed when one of them lost control and their motorbike fell into a roadside ditch yesterday afternoon at Ukilbari area on Dhaka-Mymensingh highway in Trishal upazila.
In Sirajganj, three people were killed as a truck hit a three wheeler in Talgasi area of Shahzadpur upazila on Saturday.
Khaza Golam Kibria, OC of Shahzadpur police station, said cattle traders Siddique Hossain, 45, and Ibrahim Khalil, 50 were returning home in an auto rickshaw around 7:00am.
When they were crossing the Talgasi Bazar, a speeding truck hit the three-wheeler, killing them on the spot, along with the auto rickshaw driver Jamal Hossain, 42.
Meanwhile in another accident, a helper of a bus driver was killed and 27 passengers were injured as a Gaibandha-bound bus plunged into a roadside ditch on Dhaka-Bogra Highway in Dadpur area on Friday.
Police said the vehicle skidded off the road after one of its wheels got separated, leaving Moinul Hossain, 25, dead and the passengers injured.
In Laxmipur, three people, including a man and his son, were killed and three others injured in a road accident at Manadari Bazar on Laxmipur-Chowmuhani road in Sadar upazila on Saturday morning, reports UNB.
In Bagerhat, a battery-run auto-rickshaw driver was killed and another three people were injured when a truck hit the auto-rickshaw in front of Sagor Petrol Pump at Bargoalia area in Mollahat upazila around 4:30pm yesterday.
In another incident, an unidentified female pedestrian was killed after a goods-laden truck ran her over while she was crossing Khulna-Mawa highway in the same upazila around 8:30am on Sunday, reports UNB.
A police constable, Miraj Shikdar, 30, of Gimtekathi village in Bagerhat's Kachua upazila, died on the spot while one of his relatives was injured in Moghia when their two-wheeler hit a roadside tree around 8:30pm on Friday.
In Comilla, three people were killed and five others injured as a bus rammed a CNG-run auto-rickshaw on Dhaka-Chittagong highway in Daudkandi upazila around 7:45pm on Friday.
Police seized the bus while its driver and the helper managed to flee.
In Rangpur and Dinajpur, three people were killed and more 30 persons were injured in three separate road accidents.
Maria Akter, 15 of Badarganj upazila of Rangpur, was killed when her scurf got tangled with the rear wheels of a battery-run easy bike in Rangpur's Badarganj town on Sunday evening.
In Kushtia, two motorcyclists were killed and three others injured in a head-on collision between two motorcycles near Par House on Kushtia-Pabna highway in Bheramara upazila yesterday afternoon, reports UNB.
In Dhaka, a CNG-run auto-rickshaw carrying three passengers overturned on the road after colliding with a car in High Court Mazar area around 9:30am on Sunday.
In another incident, two people -- Aminul Islam, 45, a bus driver, and Abul Mister, 33, a bus helper -- were killed after being hit by a covered van when they were repairing the bus on the Dhaka-Mymensingh road in front of Uttara Bank in Uttara area on Friday.