Punish BCL men or face tough demo
DU demonstrators confine proctor; issue 48-hr ultimatum to authorities over foiling of Monday's sit-in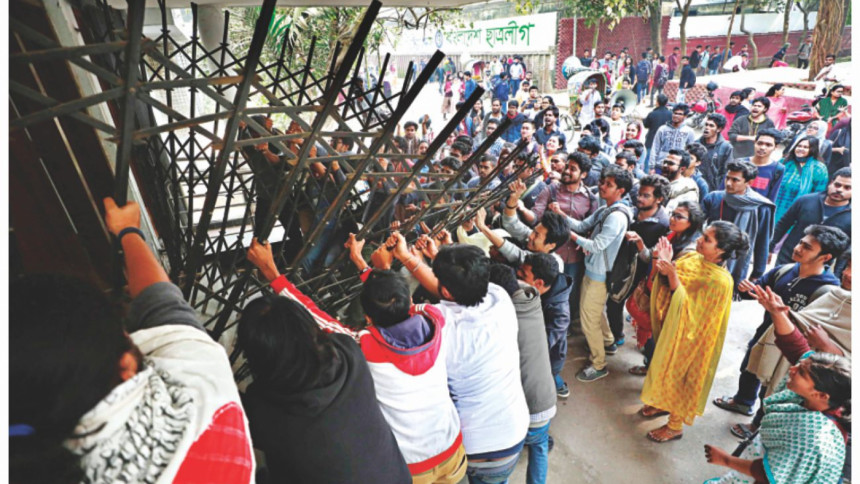 Agitating students of Dhaka University yesterday gave the authorities a 48-hour ultimatum to punish the Chhatra League leaders who foiled their Monday's demonstrations or they will wage a tougher movement.
Around 200 students were staging a sit-in in front of the DU VC office that day demanding withdrawal of DU affiliation with some colleges. The BCL men appeared and foiled their programme by harassing female students and roughing up one of the demonstration coordinators.
About 100 students of different departments started demonstrating inside the VC office around 4:30pm yesterday. They placed a three-point demand, including suspension of the BCL leaders.
Their other demands include forming a probe body with the inclusion of two student representatives within 24 hours and submitting a report within 48 working hours, and resignation of the proctor if he failed to publish the probe report within that time.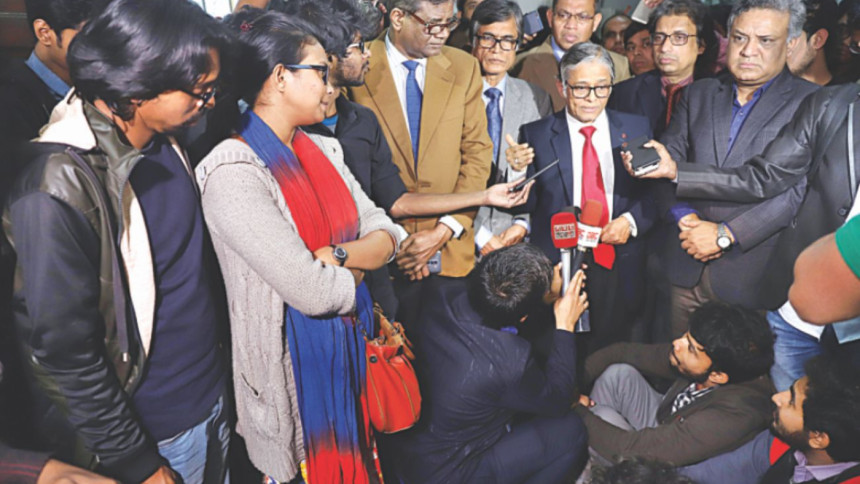 The students went to the VC after confining DU Proctor Prof AKM Golam Rabbani to his office at the Arts Faculty for more than four hours.
They initially held a human chain at the Aparajeyo Bangla with the same demand at 11:30am, followed by a procession which paraded different streets on campus and ended at the entrance to the Arts Faculty.
When members of the proctorial team locked the gate and obstructed the demonstrators from entering the Arts Faculty, which leads to the proctor's office, the protestors broke the collapsible gate and began to demonstrate in front of the proctor's office.
They were chanting slogans demanding suspension of the BCL leaders who foiled their sit-in, and also asked for the reason for handing Sadik, one of the coordinators of Monday's movement, over to police.
The proctor assured them of forming a probe body immediately but the students rejected his assurance as he could not give a specific time frame. He was also unable say why Sadik was in custody.
After the proctor expressed his failure to solve the issue, the demonstrators moved to the VC's office.
After over an hour-long demonstration there, the VC assured them of taking immediate steps to form an investigation committee and fulfilling their demands by a given time frame. He also asked the students to submit a formal complaint attaching the photos and footage of Monday's incident. The footage showed how the BCL leaders harassed female students and took Sadik inside the VC's office and assaulted him there.
Moshiur Rahman Sadik, a DU student, who was picked up by the BCL leaders during Monday's demonstration and later handed over to the police by the university proctorial team on Monday, was released yesterday around 2:00am, his brother said.